We invite you to share in another adventure experience by Rick and Paulette, reprinted with permission from their wonderful blog.
Monday, August 19, 2013
Another Mountain Conquered – Mt. Tzouhalem
Slowly, but surely, Paulette and I are moving along with our goal of visiting the multitude of provincial, regional and municipal parks and other assorted hiking trails we like to go to each year.  That includes trekking up the steep grades of the many mountains in and around the Cowichan Valley.  Prior to yesterday, we had made it to the top of Cobble Hill, Old Baldy and Maple Mountains.  Yesterday, was our first climb this year to the summit of Mt. Tzouhalem.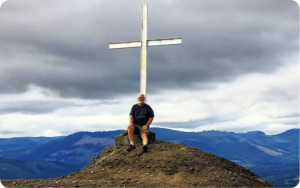 Our goal, as always when we hike to the top of Mt. Tzouhalem is the White Cross.  This large metal cross is a landmark in the Cowichan Valley and can be seen for miles.  The Summit Cross, as it's called by many, was originally placed there by local Catholic churches in the 1970's.  It was made of wood and then replaced by the current welded version in the late 1980's.
We got to the parking lot on the north side of the mountain just before 10am.  It was pretty overcast but it never really looked like it was going to rain. It was warm so with the cloud cover the weather was perfect for hiking especially with the very steep grades we had to negotiate.
Paulette breezed up the steep grades as usual.  For some reason she doesn't seem to tire out like me.  Could it be she's in better shape?  Well, as far as shapes go there's not much doubt about that and I'm very happy to admit it.  For me, it was a pretty easy climb as well as I used my newfound system of pacing myself and stopping for frequent rests – about every 50 steps on steep grades.  That works really well and I felt really good by the time we reached the summit.
Arbutus trees shed their leaves all year round so with the cooler temperatures in the forest and all the leaves scattered across the trails it really added a sense of fall to the air.
About 2/3rds of the way up we came across one of our favourite sights – the little Inukshuk Village.  It seems to have prospered since the last time we were here.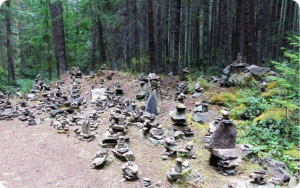 It's always interesting to us to see some of these elaborate structures and realize how much time some hikers must have spent building them.  Even more amazing is that they've been there for years, hundreds of folks hike this mountain every year, and yet no one has just walked through and kicked them all to pieces.  Maybe vandals don't like to work all that hard to find things to damage!
I've mentioned this before, but Mount Tzouhalem is named after a local warrior who had a penchant for killing.  Tzouhalem's seemingly invincible fighting ability and unruly behaviour eventually led to his being asked to leave the village of Quamichan, which he did.  After threats from neighbouring tribes, Tzouhalem was re-established as the preeminent "chief".  He kept his followers safe and helped make Quamichan the wealthiest of the Cowichan villages. Tzouhalem died in 1859.
Once at the top of the mountain, we settled on a rock outcropping for a bit of a snack and to rest.  This is Molly and Rylie's favourite part of hiking up mountains – they always know that Mom is going to have a good treat for them at the top.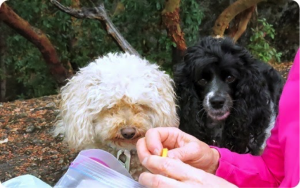 We were at the summit for about 20 minutes before we began the long trek down.
Going back down took us a little less than an hour.  When we got back to the parking lot trail head, we saw a group of about a dozen people just getting ready to head up.  Boy, were we glad it was them and not us – we were beat and tired.
Posted by Rick Doyle