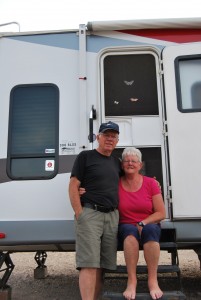 In this instalment we re-join Bill and Pat on their 2013 adventure…
Dec 31, 2013
Stayed at Windsor Beach state park last night, full hookups and all. Nice enough place but I think we have been out boon docking too long, the traffic, the lights and the noise from the other units is more than we are used to…Glad to be on our way this morning. The sun is shining brightly but it is cool, only 9C by 8a.m.. We got to the free BLM south of Quartzite around noon and set up. The camp host didn't register us as it is his day off. He told us if we wanted to register to come back in a couple of days. I guess the 14-day rule is getting a little looser.
The country here is quite different than around Lake Havasu, flat hard gravel, with a black desert varnish finish. It looks almost like pavement from a distance. There are Saguaro and Cholas cacti, Mesquite, Palo Verde and Ironwood trees as well as Creosote bushes growing here. We went into town to see about some show tickets for the New Christy Minstrels but the ticket office at the QIA (Quartzite Improvement Association) office was closed so we will have to wait until Thursday to get them. We stopped at Sweet Darlene's for a coffee and goodie, one of the must visit eateries in Quartzite, we plan on going back for new years' dinner tomorrow, home just in time for, you guessed it, Happy Hour.
Jan 1, 2014
Happy New Year all, any resolutions you ask; Not!…Went for a nice walk this morning before it got too warm, we hiked around for about an hour. There are a lot less RV's here this year than in past years. You see it out here in the camping areas and also in town, a lot of the vendors are just coming in to set up where in past years they are going full swing by the first of Dec.
Wandered around the stalls for a few hours and picked up a couple of little things, then off to Sweet Darlene's for our early New Year's dinner. Headed back home afterwards and managed to pull in just in time for, well, you know.
Jan 3, 2014
We have decided to stay in Quartzite for a week or so and explore the area, two million snowbirds can't all be wrong.
Met an interesting old Irishman, he was sitting behind the counter at one of the vender's stalls in the market, drinking Guinness. Pat asked him a question about something they had for sale there and he told us he was only the lookout for the day and directed her to the person doing the selling. He then proceeded to tell us his life story, as Guinness drinking Irishmen are want to do.
Turns out he spent quite a bit of time in BC mostly on Vancouver Island near Tofino in the sixties. He is a Canadian now and proud of it, although he has lived in Montana for the past fifteen years. Anyway we survived another day and got to relax in the shade with a well-earned libation at the end of it.
Jan 5, 2014
Yesterday was cloudy and cool so we took a drive to Blythe for a little trip. It is about twenty-five miles west of here in California on interstate 10. An interesting aside about most American towns is they are defined by their access to a major highway. Blythe for instance boasts four exits to the interstate which in this part of the world denotes a fairly major centre. Blythe however is competing a class or two above its actual level. A four exits denote a fairly major community, one would expect a Walmart and at least one competitor, a couple of large food chain outlets and so on. Blythe does not live up to its exit expectations. It's a nice enough place, a farming community and a regional centre of sorts but really more of a 2/3 exit place.
We stopped at a Starbucks for a coffee and to catch up on our emails, etc. they had a great music mix playing, not at all what I would have expected. Blues, Rockabilly, Jazz, Contemporary and Old timey stuff, and not a big star artist among the whole works. While we were drinking our coffees a fellow came in dressed up as a Native American. He was obviously white but he had long grey hair done in braids, one over each shoulder. He was dressed in what was meant to look like buckskins, only it was mostly denim. Perhaps Wild Bill Cody was in town and we didn't know about it or he was a Grey Owl wanna-be, anyway he sat quietly, drank his coffee then left.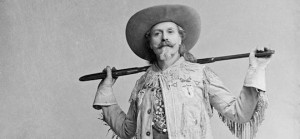 After our coffee we headed out to find a couple of BLM campgrounds in the area. The first one we went to was a place called Midland, only about five miles north of town, but not at all interesting. The land is flat and sparsely vegetated with only stunted Creosote bushes poking out of the gravel here and there. Only a handful units parked that we could see and no camp host.
We started back towards town and passed a fruit stand sign so turned off a side road to find the place, a different place for sure. When we drove in there was no one around but Oranges and Grapefruits in bins with prices marked on the sides and a lock box to put your payment into. We picked up a few of each, paid and headed on our way. A bit down the way the road goes over an irrigation canal, by the bridge is a bait shop, a run-down tired looking place. In the yard out front is a big pole about eight feet tall decorated with Catfish skulls stuck on spikes driven into the pole. Looks like when you catch one you nail it to the post, take off the fillets, and leave the rest to fossilize in the sun. Only in California I guess.
We drove through town and headed further west to a BLM called Wiley's well. The turn off the freeway takes you south about three miles on a nice paved road to the entrance to a state prison, don't turn in, just keep going straight for another six miles on a gravel road. The county side here is very desolate, the ground is sandy and soft so the roads are graded down below the surrounding land, like a country road with the snow plowed up on each side, it looks strange but a lot of desert roads are built this way. We reached the campground and were pleasantly surprised.
The place looks like a provincial park back home, designated sites with picnic tables, shade covers, fire pits, outhouses and water. The water pump has a warning on it that the fluoride and selenium levels are too high for prolonged use. The sites are situated under a grove of large trees that grow around the old well site. We talked to the camp host, a nice lady from Spokane. She explained that there is another campground further up the road called Coon Hollow as well as dispersed camping in the surrounding desert. The only downside was the fact that the snakes are out in that part of the country, several have been seen in the campground this season. The desert on the California side of the river is home to both the Sidewinder and Mohave Green the most venomous and aggressive of the rattle snakes, so while the place is very attractive we are most likely going to give it a pass.
We stopped in town on our way home and did a little grocery shopping and picked up a snack for a late lunch. Among the things we were looking for were Chia seeds as well as Flax seed. Asked one of the clerks in the store and she directed us to the correct aisle. We found the Flax easy enough but no Chia seeds another clerk came along and I asked her about the Chia, she didn't know what it was so I explained it to her and she told me she always enjoyed it when "you folks come down because I learn so much about food", no Chia to be found however. A long and full day as we did not arrive home until after the start of happy hour.