I've been making this recipe for well over 20 years. I'm not sure about your friends but, in my group it's an absolute necessity to double this recipe!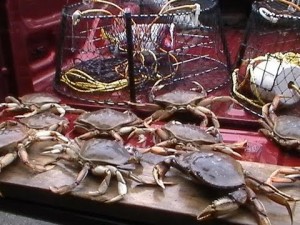 When I first discovered this recipe, I wasn't living where fresh seafood was as abundant as here on Vancouver Island. I loved it then but, it's even better now, with fresh crab! 
INGREDIENTS
1 8-ounce package of cream cheese
1/3 cup mayonnaise
2 teaspoons lemon juice
1 Tbsp water
1 Tbsp horseradish
1/2 teaspoon Worcestershire sauce (or more, to taste)
1/4 teaspoon of Tabasco to taste
1/2 cup finely grated Parmesan cheeese
1 cup of fresh lump crab meat
DIRECTIONS
Preheat oven to 350°F. Beat together the cream cheese, mayonnaise, lemon juice and water, until smooth. Mix in the Worcestershire sauce, Tabasco, and horseradish. Fold in the lump crab meat. Place in an oven-proof casserole serving dish.
Bake until bubbly and heated through, about 20 minutes. Serve with crackers or thinly sliced baguette.