My sister Madge and I would like to share our experience at Country Maples RV Resort, with you.
Country Maples is located in Chemainus, just off the Island Highway approximately 14km north of Duncan. The Chemainus River borders on the park. Country Maple is part of the Holiday Trails group of Parks however it is open to both members and non-members.
You get a feel for the friendliness of the park immediately as you skirt the split-rail fence, pass the beautiful sign and pull up in front of the little office to check in.
It just feels like home, right off the bat. Paperwork complete, you set off down a winding road bordered by trees on one side and views of the mountain to the left. Down below, you'll glimpse RVs tucked away cosily at the bottom of the incline. You'll also see the very welcome off-leash area at the bottom of the hill on the right. RVers in general are dog lovers and having a spot for your family pet to run and play is an added bonus.
There are a number of sites which back directly on this pool area and are ideal for families who want to let their little ones out to enjoy, all within view of their RV. There is even an Activity Director in residence during July and August, who will be planning all sorts of fun for children and adults alike.
The sites here are varied and, just as there is an RV for everyone, there is a site here for all. Everything from riverside tent sites to full hook-up 50amp sites (and everything in-between) are on offer. Sites are generously proportioned and there is nice separation between them, which affords welcome privacy.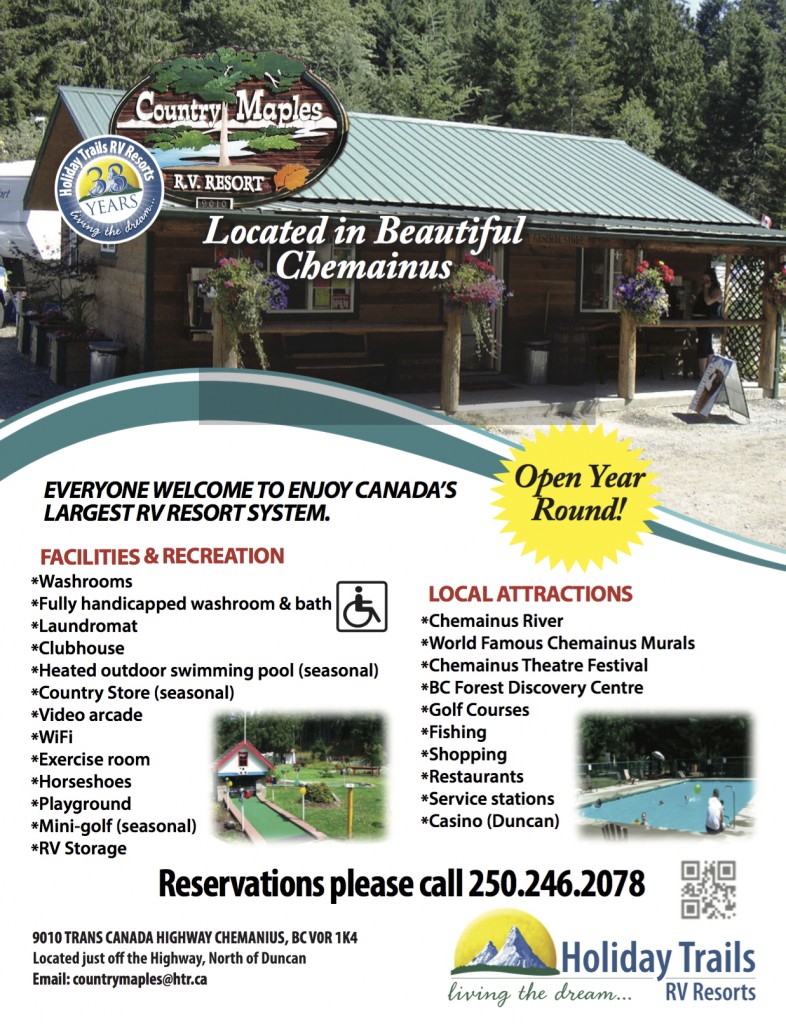 If you crave the sunshine then consider a site on the "Arizona-strip". This is the aforementioned area tucked at the base of the slope. It is open and bright however there are rows of trees between sites. This area is good for you if you appreciate a little more adult-oriented feel and need access to satellite.
So, if you are looking for a Park with an 'old-fashioned' feel but all the modern conveniences
then, I'd suggest you check out Country Maples. It has a 4W rating, one of Woodall's highest. It is also
a year-round RV Park.
You can find out all their information regarding rates as well as member and non-member booking policies online at www.htr.ca. You can always call the friendly and informative ladies at the front desk as well, they'll be happy to ll you in. Their direct telephone number is 250-246-2078. If you prefer to use e-mail then feel free to address your enquiries to countrymaples@htr.ca OR Click HERE for their website!