Looking to impress a group with the best Seafood Chowder EVER? Our good friend, Rick Laddish, shares his creation and directions for you here…
This recipe tastes the best when the freshest of Seafood and ingredients are used.
INGREDIENTS
4 slices really nice quality smoked side bacon, cut into small pieces
One onion diced (about 1 1/2 cups) 6 ribs celery chopped (about 1 1/2 cups) 6 small carrots, chopped (about 1 1/2 cups)
DIRECTIONS
• In a nice big soup pot, gently fry the bacon until slightly browned, add veggies and cook until semi tender.
Then, ADD:
3 Cups of Fresh Homemade Seafood Stock or 3 (12 oz.) cans of Clam Nectar
2 Cups of Fresh Vancouver Island Manila Clam Meat or 2 (12 ounce) cans of baby clams (we like it nice & clammy)
2 Cups of water
1 large bay leaf
2 tsp. of Old Bay Seasoning. A very nice seasoning available at most stores now in Canada.
CONTINUED DIRECTIONS
• Bring to a boil, (slow boil). Cook until the vegetables are nice and tender. Reduce heat and simmer.
• In another pot, cook about 2 Cups of firm fleshed potatoes, red with skins on, cut into cubes. When slightly cooked, (about 15 min) or able to pierce slightly with a fork, and add to the chowder.
• Reserve 1 cup of the potato water.
ADD: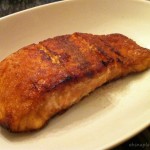 One fresh skinless Salmon fillet prepared as follows – Grind a small amount of Mediterranean Sea Salt & Fresh Peppercorns to both sides of the fillet and pan sear on both sides to 85% done. Remove and set fillet aside to cool slightly to handle then gently break the salmon up into bite-sized pieces and add to the chowder.
Bring to a nice slow simmer. then add, in quantities to your liking;
Fresh Raw Pacific Oysters (cut into bite sized pieces)
Fresh raw Pacific Spot Prawns hand peeled & deveined with just the tailpiece left connected to the prawn.
Do not over boil and simmer nicely for 10 minutes or so to cook the seafood until done.
ADD:
1-2 cups of half and half cream, or if desired (the ultimate!) whipping cream.
Mmmmmmm…
If the chowder is not thick enough to your taste, mix 1/4 cup of corn starch with the reserved potato water, whisk together and slowly add it to Chowder and simmer until it reaches your desired level of thickness.
If necessary grind additional Salt and pepper to taste.
Serve with Oyster Crackers, and enjoy!
The quantities of vegetables and seafood may be varied to taste and availability!
Remember: The freshest of ingredients will result in a better Seafood Chowder. You can also reduce all the ingredients by 1/2 or 3/4 to make a smaller amount. This recipe makes about 12 serving bowls.