RV Business interviews Don Clark on Grand Design Growth

May 31, 2016 by Rick Kessler
The growth rate of Grand Design Recreational Vehicles Co. is difficult to ignore. In a little more than three-and-a-half years, the Middlebury, Ind.-based towable manufacturer – started by former Keystone RV Co. executives Don Clark and brothers Bill and Ron Fenech – has grown from a startup to a thriving business that welcomed Indiana Gov. Mike Pence and Lt. Gov. Eric Holcomb to its complex for a May groundbreaking ceremony commemorating an $11 million expansion project that includes construction of two 110,000-square-foot buildings on a 48-acre parcel purchased last year.
The groundbreaking was close on the heels of the company's celebration to mark the production of its 20,000th towable RV. Considering the manufacturer was marking its 10,000th unit last April, Grand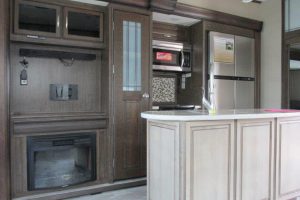 Design doubled its cumulative production output in about a year.
During roughly that same time span, Grand Design enjoyed year-over-year unit growth of nearly 49% through February and its workforce grew by more than 40%, going from 540 people in early 2015 to about 800 workers now – a number that is expected to grow by about 100 once the two new buildings are up and running by September.
Clark, who serves as Grand Design's president, was unable to attend the groundbreaking as he was in Cincinnati as part of the Ernst & Young Entrepreneur of the Year competition, which is recognized as "one of the most prestigious business award programs in the country and celebrates the country's most innovative business leaders." According to Ernst & Young, Clark is one of 25 finalists from more than 1,500 nominations in the Ohio Valley region (Indiana, Kentucky and southern Ohio). The competition culminates at an Awards Gala on June 9 at the Hyatt Regency in Cincinnati.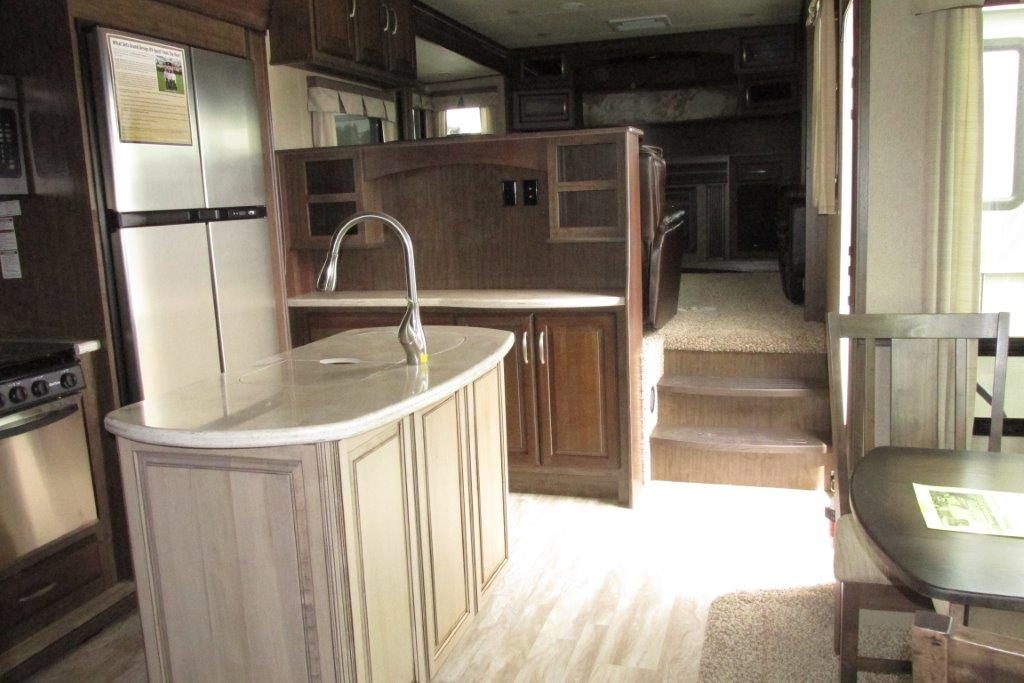 Recently, Clark took time to discuss the Ernst & Young program as well as Grand Design's noteworthy growth with RVBUSINESS.com.
RVB: Tell us about the Ernst & Young Entrepreneurship of the Year program. What has the experience been like?
Clark: It's an honor, but really the way I look at it is it's an honor for our company. It's labeled as the Entrepreneur of the Year program, but really in our case, it's more of a recognition of Grand Design and the entire team, including my two partners, Ron and Bill.
Truly, this is the sharpest, best-performing group of individuals I've ever had the privilege to work with. It's taken a team to accomplish what Grand Design has accomplished in just three and a half years. So it's exciting for our whole company because it's a reflection on the company, not just myself. It's not just about me, it's about the entire Grand Design team
They spent five and a half hours here at our complex. It was very detailed, and obviously they checked to see how healthy we look financially, and then they took a look at our growth, which is off the chart.
They were impressed with our company. One of the Ernst and Young guys said it opened their eyes to the RV industry.
RVB: Your trip to Cincinnati prevented you from attending the groundbreaking ceremony with Gov. Pence, but as Ron Fenech said, you certainly were there in spirit. What are your thoughts on Grand Design's latest expansion project? When you, Ron and Bill first put pen to paper on what would become Grand Design RV, did you ever think you'd grow so much, and so quickly?
Clark: I can speak for myself – and I think I'm pretty safe in speaking for Ron and Bill on this as well – that we had a pretty good idea what we could build from a blank sheet of paper would be good. We thought it had a high probability for success.
We spoke with our dealers, and many of them are our personal friends as well, and asked them point blank: 'If you could have a clean canvas to create the best scenario as a manufacturer partner, what would it look like?' We took the information that we gleaned from dealers and we created a blueprint of a company that gave the dealers what they were looking for in a manufacturer, and it was three main things: a manufacturer that provided product that gives them very fast inventory turns, strong margins, and a relationship they can trust.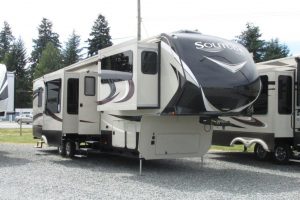 Now, the devil is in the details. We had to then create a business platform that would actually provide those three things. Once we figured that out, we knew we had a very good recipe – and designing hot selling product is in all of our DNAs at Grand Design, so we knew we would get that right. Then we gave the dealers what they wanted.
The hardest part was to create something different because most of the manufacturers today pretty much have very similar methods of attacking the marketplace. There's already a plethora of manufacturers out there that provide a good product. We had to come out with a different model to provide differentiation.
Early on we've been overwhelmed with the reception, not just from the dealers, but with how quickly and accepting the retail consumers have been. There's a groundswell of consumer support for our brand that is really cool. It's something I've never experienced before. I'm constantly getting e-mails and Facebook pictures from our customers at different locations throughout North America showing me where their unit is parked and what it's overlooking.
We just found out that for the third year in a row, the Grand Design owners group again wants to come to Middlebury so our tours and our people can be part of their event. The first year we had 40 people attend the rally and this year we will have over 300. It's a pretty cool thing.
The bottom line is we're thrilled with where our company is. We figured it would be successful but no way did we think we'd be here in just over three and a half years.
RVB: What do you see for Grand Design in the near future, productwise? Are new towable lines in the works, and will the company ever enter the motorized segment?
Clark: There are large segments of our marketplace that our dealers are urging us to enter because they're having such success with our product in the segments that we now fill. We need to decide as a company, and we include our dealers in this decision, what segments to attack next. Before we do that, though, we have an obligation and a responsibility to our dealers to first adequately supply them in a timely fashion with the brands that we've already introduced.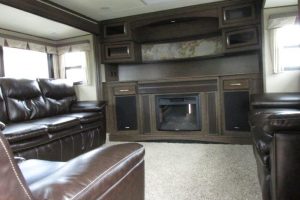 So the expansion across the street is going to help accelerate the ramp-up of our Reflection product. The Imagine project will move out of our 172,000-square-foot facility and the Reflection will take up the bulk of that space. We'll be able to increase not only the models that we build today, but we'll be able to expand the Reflection's towable presence, which is selling very well. Even though the Reflection is being produced efficiently, it has the capacity for more and we have the backlog to support that.
Imagine will have its own facility in September of this year and that will enable the brand to go up substantially in production rates and expand its travel trailer presence. After we do that, then we'll look at other segments we can enter into.
There are a lot of exciting segments in the travel trailer market. We cut our teeth in fifth-wheels, but the travel trailer market is about three times the size of the fifth-wheel market. We are just in our infancy in our penetration of the travel trailer market. There's a lot of runway for growth in the towables sector.
I'll just mention some segments on our radar: one is a smaller-sized ultralight that may or may not be branded under our Imagine line. There's a segment in stick-and-tin that is a large segment in which we are not yet operating that dealers have asked us to jump into. There are other fifth- wheel segments we're not in that are available to us.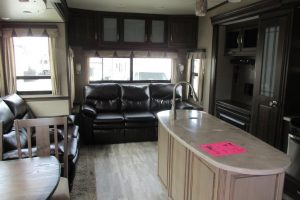 As far as your last question, there's probably not a week that goes by that I don't get a dealer, or someone with RV interest, who doesn't ask me, 'Hey, when are you going to get into motorized?' That's something that we talk about. It's not a given that will be in that, but it's certainly not out of the question either. We have motorized know-how within our company. In fact, Bill Fenech knows the motorized business as well as anyone I know. He's very good at it. That would be doable for us.
But we are going to grow responsibly. That's what I'm most proud of. It isn't just the dramatic growth that we've accomplished as a company and with our dealer partners. What I'm most proud of is the fact that we accomplished it while we were growing responsibly. What I mean by that is we didn't bite off more than we can chew. We had our infrastructure in place to be able to handle our growth. We had our service in place before we grew so that we could handle the growth. The front end didn't outpace the back end, which happens in most growth-oriented companies. We've been able to do it while still providing excellent service to our dealers and we did that by design – or should I say by 'Grand Design.'
CLLICK HERE to view the latest Grand Design Arrivals at Arbutus RV's 5 Island Locations.