March 23/15
We woke up to the sound of the little creek that burbles down the hill behind our campsite (campsite referenced in Part 1 – "…we are in this amazing place near Lone Pine. The campsite is on the desert plain below the towering Sierra Nevada Mountains."). The stream is only about three feet wide and six inches deep, but it does hold fish. Yesterday we talked with a young couple that came fishing down the creek. We chatted a bit and they told us the stream is stocked with catchable Rainbow Trout and holds native Brook and Brown Trout.
This morning it was cool only 3 or 4 degrees, but the sun is warming up things nicely as the coffee perks.  Lone Pine is a very famous old movie location, lots of westerns got made here in the forties and fifties so we are going to the movie museum and a few other touristy places before we leave.
March 24/15
On the road by eight this morning, the &%#@(& neighbour who ran his generator all night helped with the early start. We passed through Independence with its beautiful rose granite courthouse, which has the dubious honor of being the place that Charlie Manson et al were arraigned for murder after their arrests on a Death Valley ranch.
We stopped in the pretty little town of Bishop for fuel and a few groceries. The road starts to climb quickly after Bishop, topping out at just over eight thousand feet. The truck pulled the grades with determination and never faltered once on the ascent. The country changes from high desert to Juniper forest and the temperature dropped steadily. We stopped by a small river for lunch and the wind had a bit of a bite to it but the sun still felt good.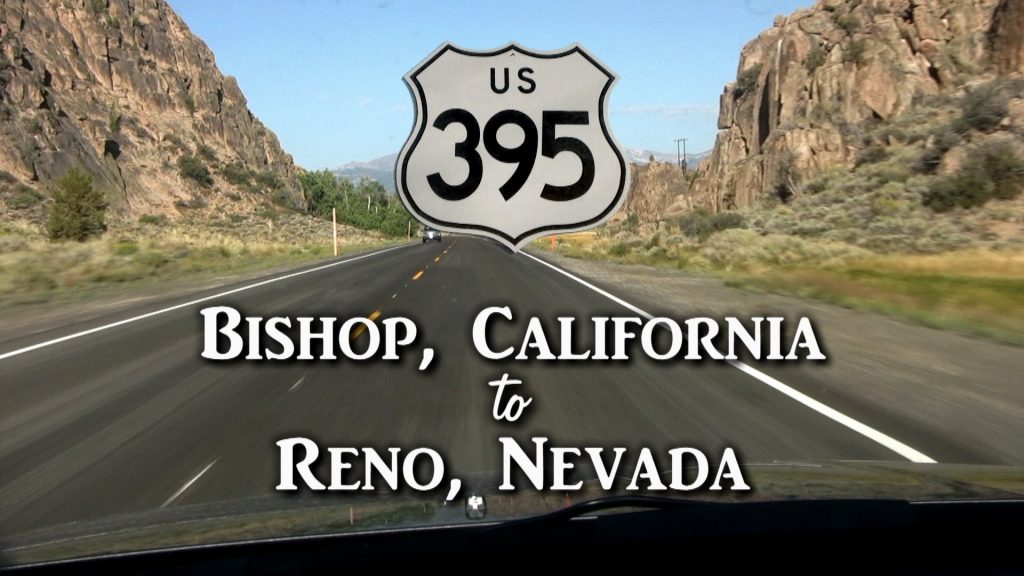 Soon we said goodbye to California and entered Nevada. The first few miles the road was narrow with little traffic but as soon as we got to Carson City it turned into a busy freeway and by time we rolled through Reno it was fourteen lanes of solid traffic all going over the speed limit which is seventy MPH! Once we passed the turnoff to Sacramento the cars thinned out and soon we had the road all to ourselves again.
A pit stop and a fuel stop later we turned north at Susanville and the road was completely deserted, maybe a vehicle once every ten minutes. We are camped at Ramhorn Springs Creek a free BLM campground with only ourselves for company. A couple in a van pulled in and let their dogs run for a few minutes but then left, so we are looking forward to a peaceful nights rest. Tomorrow, on to Oregon.
March 25/15
Peaceful but cool, minus 6 C this morning at seven.  We got packed up and headed out once the sun took the frost off of the grass. We hit fog for a few miles then the sun burnt through and things started to warm up a bit.
The road wound through hills of Juniper and Sagebrush and in a few spots stands of Ponderosa Pine. The few small towns we passed through looked clean and well cared for. Most of the area is ranch country with large pastures and hay fields on the lower slopes and most of the homes tucked up against the hills.
We drove by several large alkali lakes and passed below a high escarpment over 2500' according to the info sign. We ended up in Burn, Oregon for the night and decided to splurge and stayed at an RV park. Clean and quiet but definitely a Mom & Pop operation.
Out the gate early, for us, on the road by eight thirty. As soon as we left the road turned north into a lovely little canyon. We wound our way upward into the pine forest. The road winds and wanders along over the crest of several passes and eventually parallels a nice little river for a while. After the last windy descent we came out of the hills into grassland above the Columbia River and then down and over it into Washington. We made good time after that as our lovely country road has turned into another soul sucking freeway. Parked at a casino in Yakima for the night, will cross back into Canada sometime tomorrow and end our winter sojourn for another year.

This year's return trip has been a little more leisurely and a lot more interesting. Highway 395 is not a get- there-fast type of alternate route but more of a step back in time. If you are a baby boomer and remember and miss what the world was like when you were growing up, then 395 is definitely for you. No Walmarts, Nevada section is the one exception, no Mickey D's and not a lot of the usual mind numbing tourist stuff; read Reno. Beautiful scenery, an uncrowded, almost lonely highway, restaurants that serve real food and friendly people everywhere you decide to stop. O, and did I mention wonderful secluded camping?