The following inspirational trip report was sent to us by Howard Lockhart. It certainly makes us want to get out there and take advantage of every off-season RV'ing opportunity! Thanks for sharing, Howard.
Due to certain family commitments (the arrival of our first grandchild at the beginning of September), we felt the need to just get away once the new Mom and baby were settled in.
We spent the latter half of September and the first few days of October on a camping trip to Lac La Hache, the area near Kamloops, and the Thanksgiving week-end in Kelowna. We prepared ourselves with warm clothes and firewood for the campfire. The weather forecast was for mostly sunny days so we were prepared.
We left Nanaimo early on Tuesday so we could get the reduced rate fare on the ferry. We then decided to go up the Fraser Canyon because it is the most direct way to get to Lac La Hache. Once we cleared the lower mainland, the roads were very quiet. The fall scenery was very beautiful with all the fall colours. We stopped at a view point to admire the canyon views. We have travelled the canyon many times but have always been in a hurry to get to our destination. At this time of year, traffic is light, the views are great and you don't need to be concerned about truck traffic and holiday travellers.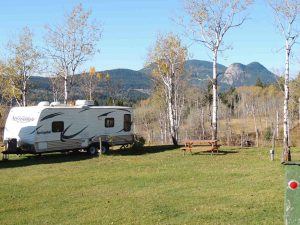 We spent a week there and fished most days, some days we never saw another boat. We also spent a day cycling around 108 Mile Like enjoying the colours and the many waterfowl that are still around. The evenings were chilly but a campfire soon gets you warm. The provincial campground across the highway was closed up on the last day of September. We heard this was normal for many Provincial campgrounds in BC so you do need to check.
After leaving Lac La Hache, we wanted to spend a few days around Kamloops. We read some travel guides for camping in BC and found a horse ranch at Pinantan Lake that had a few basic camp sites. We called Jandana Ranch and they told us they would be out but just pick a site and get settled in and they would see us later. At this ranch they teach "Natural Horsemanship". It is a great place to stay even if you are not into horses. There are great hikes that you can take and you don't even go off their property. The owners and staff are very friendly so if you go that way, look them up. The road in was paved but very hilly and twisty. I pulled over a couple of times to let people go by. The evenings were quite cool as you are fairly high up but the views over the lake are fantastic.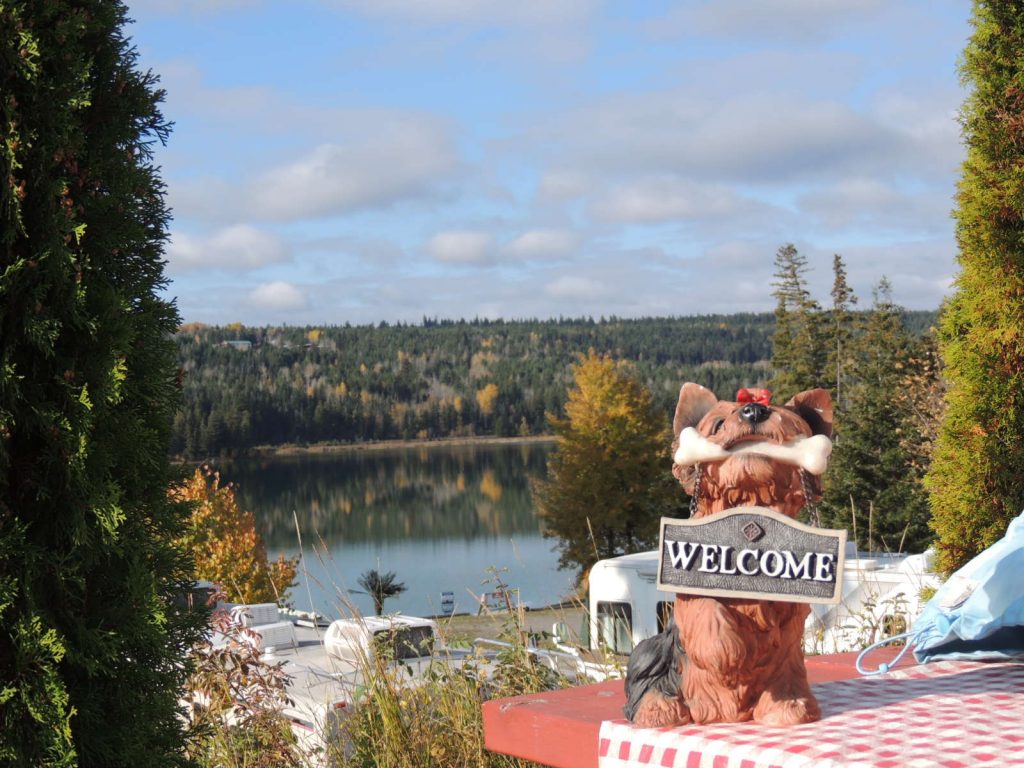 After leaving the ranch, we headed east towards Prichard. The pavement soon ended and we drove on good gravel but it had rained so we got lots of mud on the truck and trailer in short order. The bridge at Pritchard is a one-way affair with a wide part in the middle where the people going downhill yield to anyone coming up towards them. There wasn't very much traffic so it was not an issue.
The highway through Monte Lake was fairly quiet so we made relatively good time on our way to Kelowna. This
area has always been one of our favorite areas because of the many lakes we can get to.
We arrived in Kelowna and parked beside my sister and her husband in the RV park. They have just become full-timers so we talked about that a few times. We had a great Thanksgiving with them. We visited with baby kangaroo's, wallabies and wallaroo's. We were even able to pet a small sugar glider. This was the last day of the season for Kangaroo Creek Farm.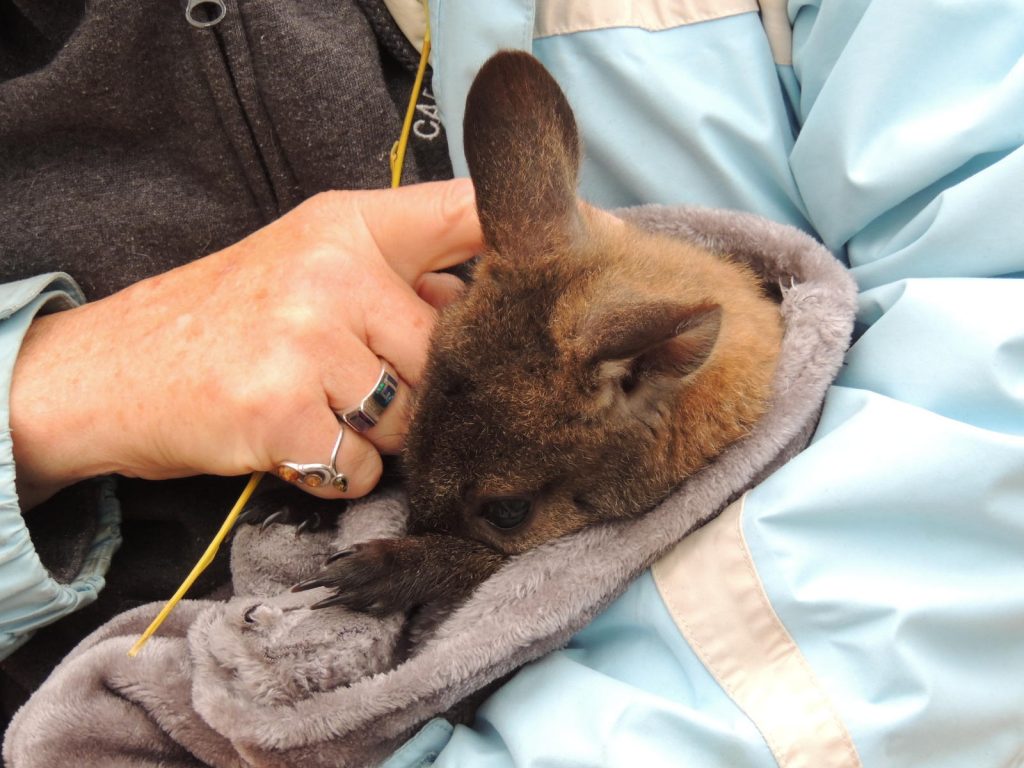 Then we headed home via Highway 3. We chose that route because we do not like the Coquihalla. The Hope Princeton is very beautiful at this time of year with clear blue skies, quiet roads and great views. We arrived at Tsawassen for the ferry to Duke Point in the early evening. The return trip cost $100 more than the trip to the mainland because the special rates for RV's ends on September 30th. Maybe one day, BC Ferries will see the light and give RV's this reduced rate all year.
The things to be aware of are that the days are shorter but the campfires can be earlier, the evenings can be quite cool and you need to keep an eye on the weather so make sure you have the appropriate tires for your trip.
When we go fall camping in BC again, we will start earlier in September, after our grandson's birthday and try some of the lakes that are not on the main highways and hopefully stay away longer.