Have you ever thought about the history of RVing? Here's some very interesting history and statistics, brought to us by GoRving.ca.
Did you know that the RV has been a facet in Canadian travel and tourism for over 100 years and counting? We thought we'd take a little journey through RV history and share 10 fun facts about the epic journey and evolution of the RV.
• Recreational vehicles – or RVs – are known by different names around the world. The RV is also known as the camper or caravan (Italy & Netherlands), camping-car (France), caravane (Japan) and véhicule récréatif (Quebec), to give just a few examples.
• Early models of the RV date back to circa 1910 – the dawn of the RV industry when auto campers or camping trailers became available for commercial sale and afforded a new travel lifestyle of freedom on the open road – without the limitations of traditional railway travel. Though, according to leading RV historian David Woodworth, "One notable contrast to today's RV was the bathroom. In 1910, it was usually either yonder tree or yonder bush."
• Camping clubs emerged in the 1920s and 1930s with the Tin Can Tourists traveling across the United States – with roadside cookouts and even a secret handshake!
• The onset of glamping evolved in the 1930s through the 1950s, with the introduction of comforts of home to RVers – including dinettes, sleeping quarters, utility access and also the first towable models.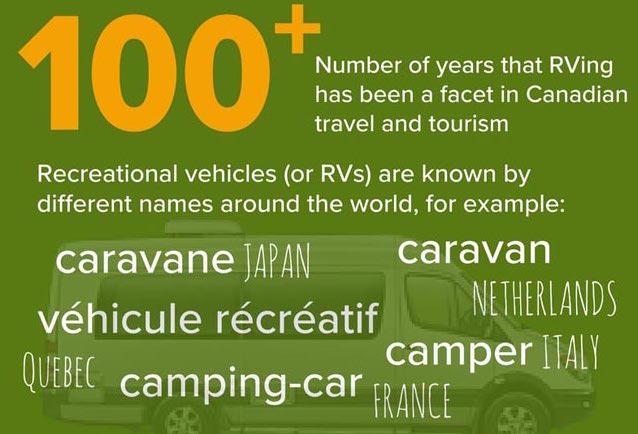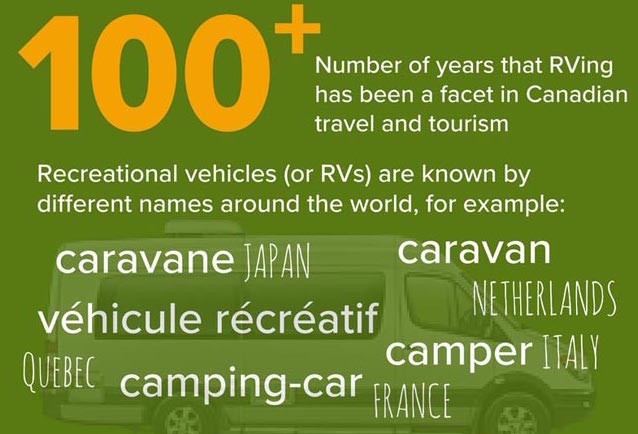 • Design and comfort continues to be the name of the game in the evolution of the RV industry from the 1950s and beyond. By the 1960s, RVs were equipped with refrigerators – an added luxury and convenience for avid road trippers and novice RVers.
• As technology advances, so do innovations in RV design and build. Modern RVs can come equipped with bells and whistles including king-size beds, showers, satellite dishes, microwaves, in-suite washers and dryers, dishwashers, crockpots and the like.
• Vintage RVs are also making a comeback, with the growing popularity of retro RV models such as Airstreams and VW camper vans in vibrant colours and sleek minimalist design.


• Beyond traditional RV camping and outdoor life, RVs have other use-cases in addition to travel. EMS mobile command centers, concert tour buses, and onsite TV and film trailers are a few examples of RVs on the road. With the advent of mobile phones and internet connectivity, RVing also affords a flexible option for telecommuting and working remotely.
• More and more folks are embracing the RV lifestyle full-time – full-timers, if you will – and choosing the RV as year-round dwelling on the road. RVing is also becoming increasingly popular as a retirement lifestyle for outdoor enthusiasts as well as snowbirds traveling south to warmer climates for the winter.
• Today, 14% of households own an RV in Canada and there are 4129 campgrounds from coast-to-coast, according to the Canadian Recreational Vehicle Association (CRVA) and Canadian Camping and RV Council (CCRVC).