We recently welcomed Derek and his family into the Arbutus Family. He shared his experience at the Port Alberni Arbutus RV Location with readers of ViToday.ca. We are sharing his review with you here, beginning with the Buying Process…
Dean Brody is blasting on the stereo overhead. The heater is pumping out a gentle warmth. With a cold drink straight from the mini-fridge, this all feels just right to relax, even with the cold wintery weather outside. I realize as I write this review in my new-to-me trailer from Arbutus RV, that I didn't just buy myself a means to adventure – this trailer is a great new escape, right here in my driveway. Derek Johnstone for VIToday.ca
Last year, my family and I packed up our two cars and went out camping a few times. One of those trips was a three-day escape, destined to be a good time (as camping nearly always is) full of kayaking adventures, long walks, and outdoor cooking. We got the tent set up just in time – the rain came only moments after. It was a windy and rainy weekend, and while summer rain really isn't that bad, a bit of that camping fun is lost when too much time is spent keeping moisture and mud out of the tent.
My family was quickly on-board with a new goal – to get a trailer for an all-new camping experience. And that would begin with a new daily driver – one that could tow, and that would help out more with weekend chores and projects.
Check out this truck! After making it a point to sit in every smaller crew cab pickup I could find, it became very apparent that I would need something bigger for my family. With two boys that will soon be long-legged teenagers, none of the smaller crew cab trucks were roomy enough. Which was disappointing, because I'm coming off of a fuel-saving 2012 Hyundai Elantra that drives like a dream and had absolutely no mechanical issues to make me fret.
I found this truck at the Arbutus RV and Marine Sales lot in Port Alberni, and with no pressure to make a quick decision, Janine Gortan (Sales Consultant) helped me get into it quickly for my first test drive, even though I only had ten minutes to test it before I had to get back to Nanaimo for another meeting.
After sitting in literally dozens of trucks and SUVs that just didn't cut it, this was pretty much love at first ride. I put a deposit on it, and took my time. I test drove it a couple of times over the week, including once with my family, and made my decision. I'm a cautious buyer.
Check out my new-to-me 2007 Chevrolet Avalanche (photo above). It's nearly fully loaded, and is everything I was looking for in a truck – with the exception of good fuel economy. Although it looks like it may actually be better than many trucks its size, it still drinks twice as much fuel per km as the Elantra did. Oh well. It's a fair trade off for what I'm getting: a truck! It is a very comfortable ride, has more than adequate towing power, and except for a sensor issue of some sort with the automatic 4×4 setting, is so far mechanically sound. And having a truck is just plain useful. House renovations, here I come!
Finding the truck that I wanted at an RV dealership was truly serendipitous. My plan was to buy the truck first, and then find a trailer. But this new opportunity for a package truck and trailer was a great chance to cut a really good deal. The first trailer my family and I fell in love with was a new 2017 Island Wild with bunks and a Murphy bed.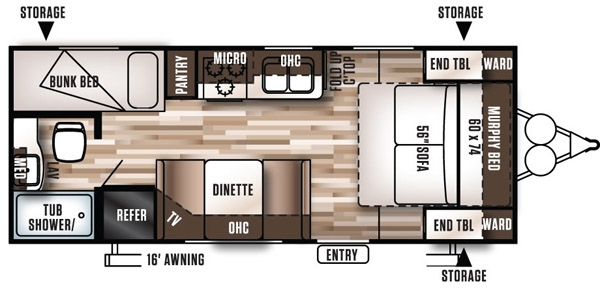 Island Wild floorplan – check out all the pics HERE.
The Wild was an absolutely a perfect trailer for our family! But we decided to keep costs a bit lower, and look at the previously owned models first. In the end, we opted for this 2014 Coleman Bunkhouse trailer. Janine again came through in helping us find what we were looking for. Janine has a way of helping a buyer through the tough decisions without putting undo pressure on a purchase. For sure one of the most genuine sales consultants I have ever dealt with.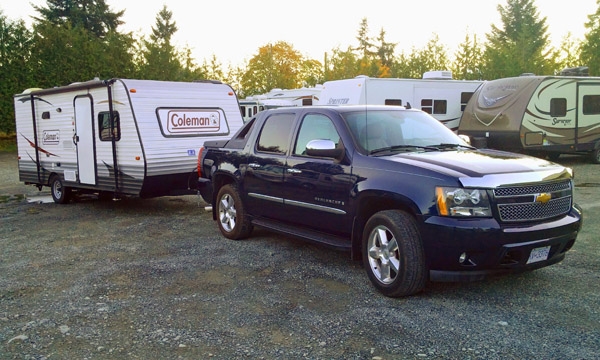 The Coleman trailer may not have a Murphy bed, but it's a beauty! Three years old but everything about it is new – did the previous owners even use this trailer? At the very least, they babied it. Anyhow, this trailer was at the Nanaimo lot, so Janine and Shawn Lawson (Branch Manager) had it towed to the Port Alberni lot for us.
We'll continue with Part 2 of Derek's Review soon. Make sure you check back to see how he turned from shopper to owner!