This is Part 2 of Fred & Jennifer's North Island Adventures! This WILL induce Island wanderlust so, look out. Get the RV packed and ready then – read on….
Fred and Jennifer Walkosky are one of that rare breed – born and bred Nanaimoites whose Island roots are very, very deep and go back many generations. They have been enjoying family camping and RV'ing trips for over 30 years and have explored many parts of the Island. However, like the majority of those of us who live in this beautiful part of the world, they had never really spent any time in the sparsely populated but incredibly scenic North end of the Island. A few years back they hit the road in their camper, determined to see as much as they could in two weeks. Here is their journal –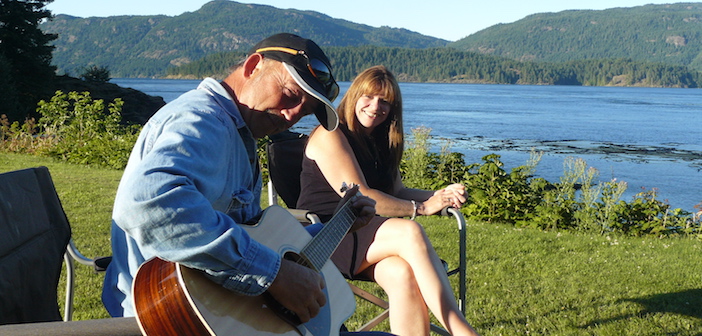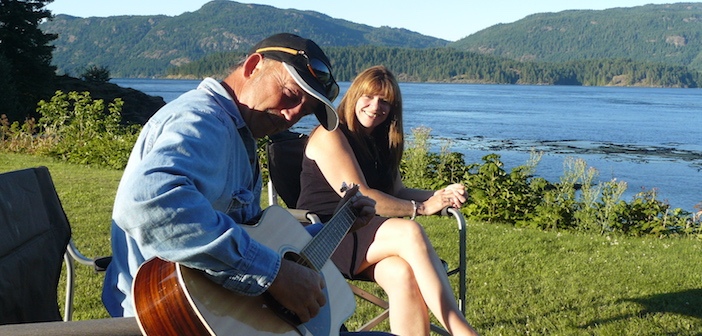 Tuesday, 28 July (Fred takes over the Journal Entries from here on)
The gravel road out of Woss was in great shape and we went merrily along at a reasonable pace, winding our way through a fairly mature fir forest with glimpses of the Nimkish River. A very pleasurable drive.
We passed Vernon Lake, which is very large, and continued south towards Muchalat Lake. We noticed that most of the creek beds were bone dry. We also noticed the temperature reading on the truck's thermometer was climbing steadily with the heat of the day, which topped out at 37C! Wow – it was hot – so, on came the air-conditioner – NICE – then, a half-grown bear bounded across the road in front of us. I felt sorry for him with all that fur in this heat!
Approximately 10 miles from Muchalat Lake the road suddenly turned into the moon's surface, slowing our progress at times to a complete stop and at best, a slow crawl. Extremely hot out.
Finally! We arrive at Muchalat Lake, find a forestry campsite (free camping). All sites were nestled in trees which was a good thing because without them, the unbearable heat may have been enough to prompt us non-swimmers to go jump in the lake.
Immediately upon arrival some older gent came up asking about tools, as his fridge wasn't doing so well. I always carry my well-stocked tool kit so, in the end, we got it going somewhat.
A couple of drinks and card games later and it was time to go to bed. Still 34C – wow! Hard to get comfortable.
Wednesday, 29 July
We make our way from Muchalat Lake to Gold River. Not very far away. Went to the Information Centre in Gold River where they were very helpful. After finding out where the MV Uchuck offices were (ed. Note –The MV Uchuck III is a 136-foot passenger and freight vessel providing service through historic Nootka, Esperanza and Kyuquot Sounds.) we decided to drive to the old mill site and check out where we were to catch the boat in the morning to travel up the Esparanzo inlet past Nootka Island and out to open sea.
We found a delightful campsite five minutes drive from our departure point. It was 42C that day, when we arrived at the site. The campsite was super clean and situated on the banks of The Gold River itself. We grabbed our lawn chairs, books & drinks and went out into the river. A nice breeze was following the river which is a common place for some air flow when there isn't any to be found elsewhere. We set up our chairs in the river where we could keep our feet cool, which made the 42C more tolerable.
We could see the mountains that surround the town of Gold River, approximately 5 miles away. I noticed some ominous-looking clouds forming over them and shortly afterwards, heard one very loud thunderclap. A short while later I noticed smoke on the mountain. Within minutes we could see two large water-bombers attempting to attack the vertical face of the mountain, which made it very difficult for them. They were forced to abandon the fight after several attempts, leaving two helicopters to work on the blaze.
Thursday, 30 July
5:30a.m. – Packed up camp and drove to the boarding point of the Uchuck.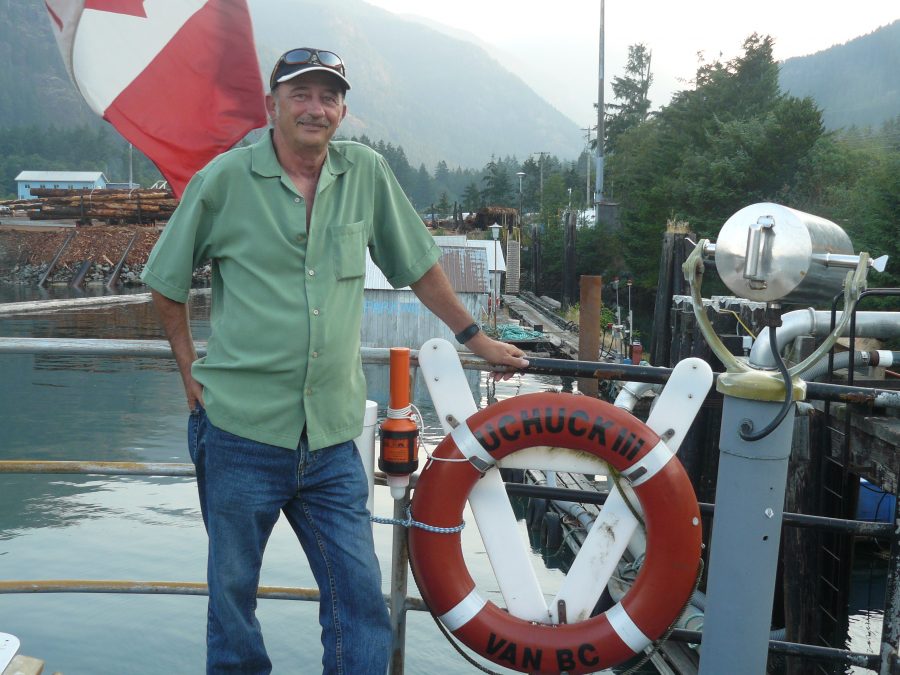 Set sail at 7:00a.m. The Uchuck III is a large working boat with pulleys and arms and a large storage area for supplies. The ship stops at many places along its journey; delivering food, gas, fish pellets for the fish farms and other supplies to the various fishing lodges tucked into sheltered bays along the way. This is the only way to get supplies to these places as there are no roads to them. The Uchuck crew are very friendly and quick to answer any questions you have. The ship is set up to accommodate approximately 100 passengers with a galley and chef on board.
The scenery up the Esparanzo Inlet and Nootka Island was spectacular with towering mountains rising straight up out of the ocean and green tree-lined shores.
Then, we hit open water and although the sea was nice and calm there were still the ever-present rollers which made it a little difficult to walk in a straight line. On board were about 30 passengers and after talking with most at one time or another during the journey, we were amazed at the variety of worldwide visitors we had here on the Island. Equally amazing to us was how they had ever heard of this little place and this trip.
Approximately 5:00 Thursday evening we glide into the protected waters of Kyoquot, a small settlement comprised of a native village on one side of the Bay as well as a store/post office/bed & breakfast; which is where we spent the night. As we passed a few of the small islands coming into the harbour, we could see some very nice homes situated amongst the trees.
We shared dinner and drinks with the passenger group from the Uchuck then we packed it in for the evening. The ship leaves tomorrow at 8:00 a.m. and I've promised to get up and make breakfast for everyone, with the provisions supplied by the B&B owner.
Friday, 31 July
6:00a.m. – I rolled out of bed, put on the coffee and hunt down some frying pans. It wasn't long before help arrived and we all enjoyed a great breakfast then headed to the ship.
We wind our way out of Kyuquot harbour, out through the many tiny islands with kelp beds and sea otters floating on their backs everywhere you look. Very cute furry creatures. Then, out into the open sea which was once again calm (thankfully). The trip back was somewhat quicker with only three stops to make. The scenery was still spellbinding and I would recommend the 2 day/1 night trip to anyone that would like a taste of how people live on the rugged West Coast of Vancouver Island.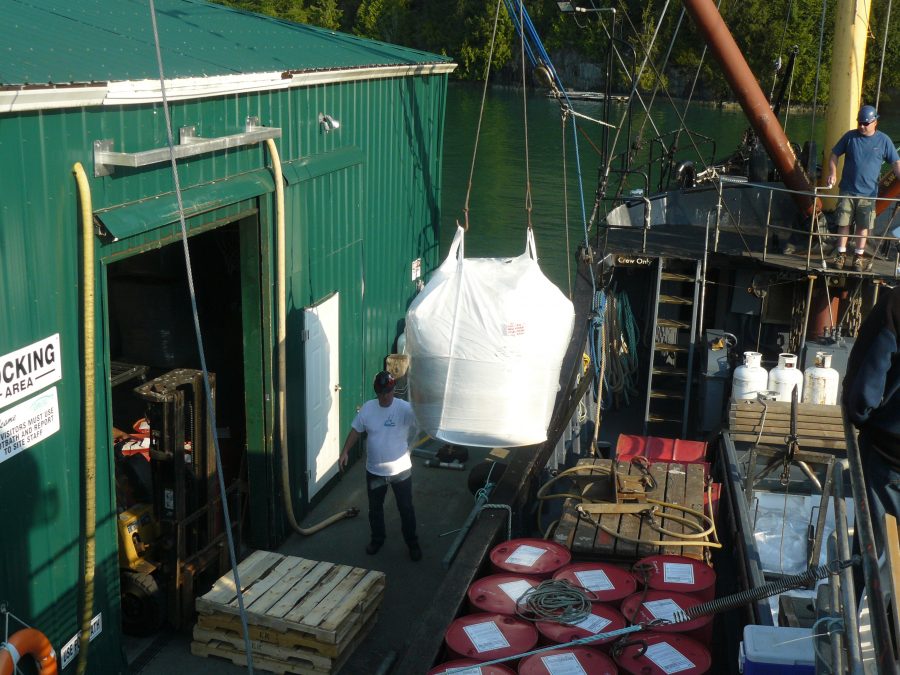 Once we arrive back in Gold River we climb into our truck and head for Bates Beach RV Resort, a little north of Courtenay, back on the East Coast of the Island. Ah yes, back to the familiar – scenery, friends, roads – all say "home" to us. As we pull into the lovely oceanside Park we are greeted by the Bates Beach owners, wonderful people. We settle in to enjoy the last couple of days of our 2-week adventure!