During the heat of the summer, we often keep our campfire cooking simple because laboring over a hot fire isn't much fun–just roasting a marshmallow can be a scorching event! But with the fall camping season just around the corner, I find myself on the hunt for new comfort food recipes to try. The cooler autumn temperatures are just begging for time spent around a campfire, which is why we love using our fall campouts to experiment with foil meals and dutch oven specials. And with this gluten-free french toast recipe, you can savor a beautiful fire while treating everyone to breakfast-for-dinner. Kristin from thetouringcamper.com

The inspiration for this recipe came from Terra Firma Adventures, but I made some changes to work for our family…
INGREDIENTS & SUPPLIES
15 slices of gluten-free bread
1 cup heavy cream
1 cup milk
1/2 cup sour cream
6 eggs
3/4 cup sugar (I used white, but I think brown sugar would work better)
1 teaspoon cinnamon
1/2 teaspoon nutmeg
1 teaspoon vanilla
2 cups blueberries
maple syrup
cooking spray
foil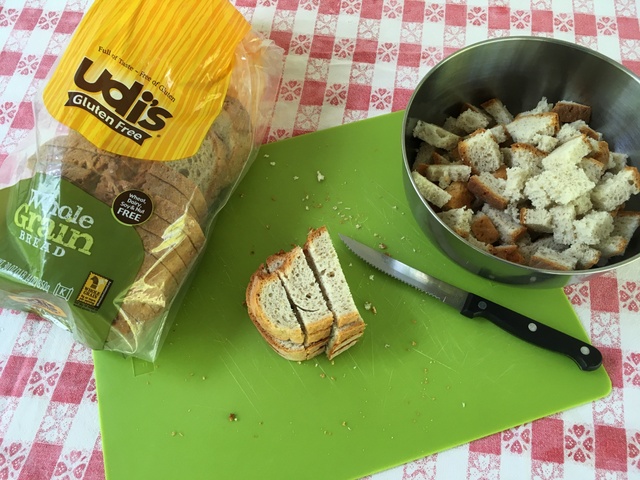 One of the hardest parts of our son's transition to gluten-free was giving up bread. Gluten bread is so soft, moist, and airy, while gluten-free bread is dense and dry. So while the gluten-free bread might not be his favorite for a peanut butter and jelly sandwich, that drier and denser texture makes it great for french toast.
To prep these campfire french toast packets, begin by cutting the bread into bite-sized chunks and put them in a large bowl. In a separate bowl mix together the cream, milk, sour cream, eggs, sugar, vanilla, and spices.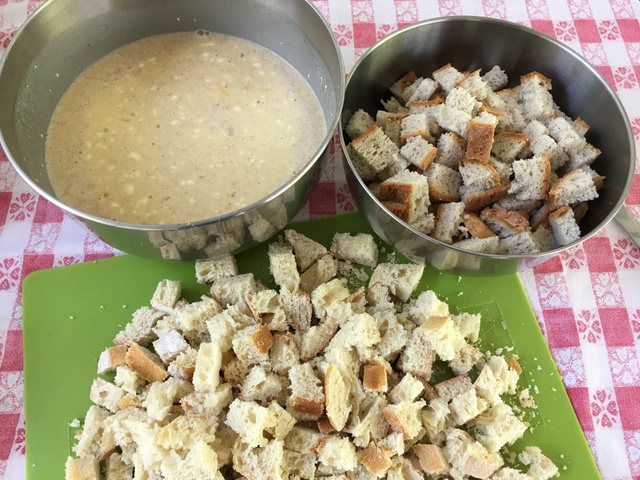 Next, pour the batter over the bread and gently fold it together. Then fold in the blueberries. I only had frozen blueberries on hand, and while they worked, they made the batter a bit more soupy–and very purple! So fresh blueberries are the best, but if you are going to use frozen, let them thaw out first to drain off any excess liquid.
Let the bread mixture sit for a few minutes to soak up the liquid ingredients.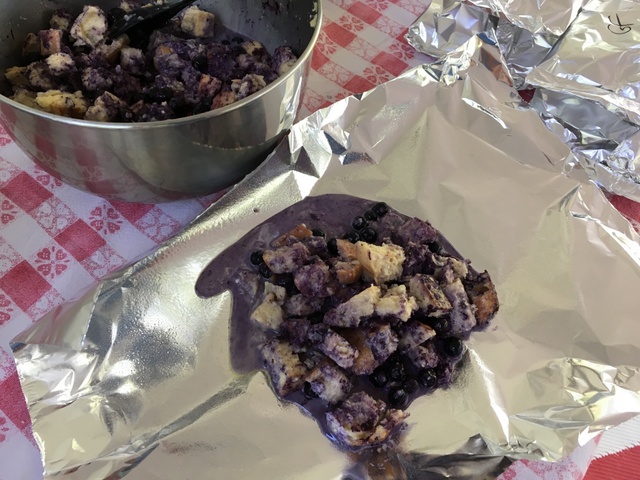 Tear off large sheets of foil and spray them with cooking spray. Scoop a serving size of the french toast onto each sheet of foil and then tightly fold them.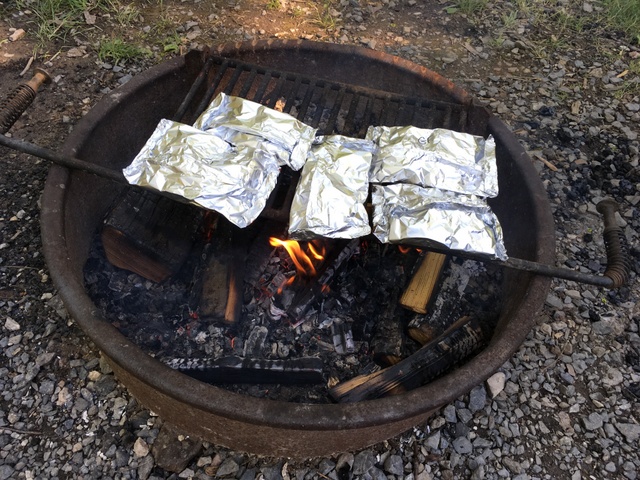 Place them over a fire that has reduced down to hot coals (rather than shooting flames) for about 25-30 minutes. You don't want a roaring fire to bake these or else you will end up with scorched bottoms and gooey centers. With some cooking fires, we find that moving the foil packets around can help them cook more evenly.
After about 25 minutes, check for doneness by opening one of the foil packets to see if the middle has set up. The bottom and edges should be a nice golden brown color. The middle should be firm and moist, and no longer gooey or runny. If not cooked through, reseal and return to fire for a few more minutes.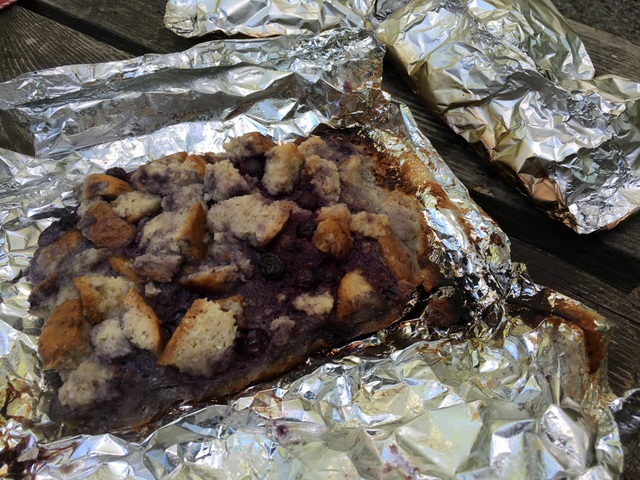 Top this gluten-free french toast with some maple syrup and maybe a dollop of whipped cream for a fun camping treat.
Enjoy!
Our thanks, and all content and photo credits, to TheTouringCamper.com for allowing us to share this recipe with the IslandRVGuide readers!