Whether you are a pack-rat or a minimalist, Arbutus RVers, there are a few items are usually absolutely necessary in your RV Kitchen. I decided to go online and compile a list of things that people have mentioned not being able to do without in their RV kitchens.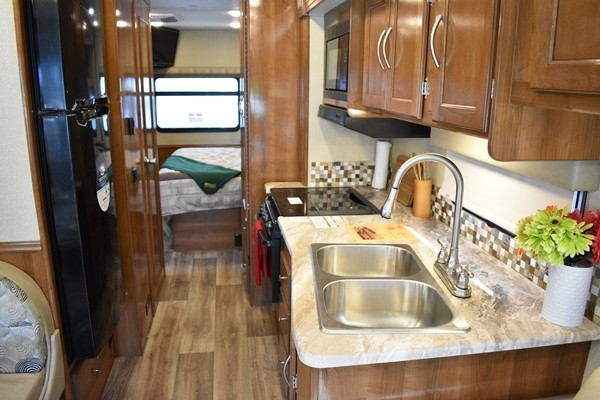 You might be setting up your RV kitchen for the first time and use this as a handy checklist (download a copy here) or, you might be looking to lighten your load (like me), and use this to compare and re-evaluate whether or not you REALLY need that garlic press/egg slicer/juicer/5-spice set for Indian Cooking/sushi rolling kit/third chopping board etc. Personally – I DO need that spice set and garlic press and multiple chopping boards…hmmmm egg slicer and juicer, maybe not so much.
To each their own. That's the joy of RV'ing. Enjoy making your RV kitchen work for YOU!
Spices
Keep in mind that spices last a maximum of one year so stock only what you think you'll use. Store in a cool, dark, dry location and give them the sniff test prior to using to assure flavor and freshness.
Use a 7-day pill box to take a nice assortment of basics with you in a compact and lightweight container. Here are a few suggestions –
salt/pepper
rosemary
thyme
oregano
chili powder
dill
paprika
cinnamon
OR – you could always do as my minimalist friend does and just carry a Costco-sized shaker of Montreal Steak Spice with you and be done with it!
Canned Goods
The weight of canned goods, as well as the space they take up, can add up quickly. I try to keep only the bare minimum basics on-hand, knowing that I can nip into a local store at any time to pick up what I might be missing.
I do like to keep at least one can or jar of each of the following in my pantry:
diced tomatoes
crushed tomotoes
baked beans (I love these on toast or with eggs)
kidney beans
salmon
clams
artichoke hearts
olives
Liquids
olive oil
vinegars (red wine, rice, apple cider, champagne, etc.)
Dry Goods
Again, smaller and fewer is better, IMO. If I do keep these on hand, I make sure they're in the smallest possible useable quantities. I find buying at the Bulk Food store and then transferring purchases to stacking plastic containers keeps things tidy and, again, compact.
Pasta
Couscous
Salad dressing mix (dry
)Nuts (of all varieties)
Crackers
Chips
Snack bars (my personal fave – Lara Bars – amazing!)
Flour
Sugar
Tea bags (several varieties)
Coarse ground coffee for my French press
Kitchen Equipment Basics
Plastic cutting board
Paring knife10-inch chef's knife
Serrated (bread) knife
Vegetable peeler
Can opener and bottle opener
Tongs and pancake turner/spatula
Serving spoons
Soup ladle
Colander and/or mesh strainer
1 medium and 1 large non-stick skillet
2 saucepans
Dutch oven for cooking pasta and stews
Mixing bowls (can also double as serving bowls)
Square or rectangular baking pan
Resealable plastic bags
Aluminum foil and plastic wrap
Long butane lighter
Non-abrasive dishwashing sponge
Biodegradable dishwashing detergent
Paper towels
Pot holders and dishtowels
Trivets for hot pans (extra potholders will work)
Sliverware
Coffeemaker (auto or French press)/thermos
And there you have it! A pared down but, I believe, effective starter list for the smaller RV.
In closing a few of the tools that many, many RV'ers seem to find indispensible in their Kitchens.
Blender or Magic Bullet
Slow cooker
Electric frypan
You can check out what newbie RV'er Gerry B decided he couldn't live without in his new RV kitchen here!