By Kirby Kolthammer, Delivery Co-ordinator, Nanaimo Arbutus RV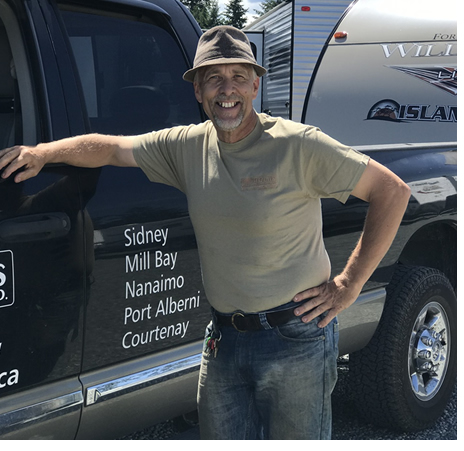 I deliver castles for a living. Others might call them RV's or units. I call them the "girls" and everyone, without excep­tion, will become someone's castle.
Each of these castles has a drawbridge, whether lowered manually or with assistance. Also, most have a moat. During late Fall to mid-Spring this may be more literal than not, but usually the moat will be a deck consisting of a mat, stone or wood or, maybe a line of grass, trees or shrubs.
These castles I deliver, or pickup, are not 'Once upon a time' fairy tales. Most are usually joining, or have been part of, an ongoing story in a person's, couples, family's or even a larger community's life. Unlike Joni Mitchell, I can't "build ice cream castles in the air". (John – deleted rest of line – this paragraph and the next put together as one paragraph only)
I am more a rogue, not uncommonly accompanied by my wondrous wife – Katt. She is a telling woman, who assists by directing my motions as I deliver to the many homes and RV parks or on occasion, postage stamp fitting deliveries, which at times are very tight. I am old enough to have the wisdom to let her tell me where to go! On this side of Heaven, where my imperfections as a man and rogue are many, this assis­tance is greatly appreciated. (Incidentally this same lady has been full-timing in our own varied castles for closing in on thirty years.) Many have enjoyed the experienced approach we bring.
Alone or with another, I drive a truck named Duke who holds the scars of what I do and some mistakes I've made. Duke, though is only a machine. Give it no more thought than that. The folks I deliver to are not machines driven by the turning of a key or pistons that force a transmission into work. Their stories are as varied as the rigs. They have similarities, perhaps, common concerns or blessings, but each has a story all their own. A new permanent or temporary seasonal home, a family seeking memorable moments, retire­ment travels, or, as a gift. These all veil a dream, hope or need dictated by the necessities of life. While I deliver or pick-up most units in the aura of happiness which life can afford, there are also those less happy situations, people caught up in the messiness of life's changing circumstances.
The island from Port Refrew to Port Hardy; Nitnat Lake to the Gulf or Desolation Islands have all been part my deliv­ery travels. The Duke has been pinched between tree trunks, shrubs and rocks as well as sunk to her axles in sink holes or mud – hence, some of her scars. I have dragged trailers on and off ferries with the wheels leaving the ground. (The ferry system has a simple and understandable directive – Don't stop the loading and unloading and the schedule goes on!).
The delivery process is simple enough. Drive to the castles' new home. Back it up. Level side-to-side. Level front-to-back. Stabs down and slides out if required. Hook up the castle's umbilical cords of power, water and drains. Check the systems. Any questions?
Reality check please. As with any and all jobs, there are variables and the doing is what I do and, yes, I've become good at the doing. There is much practice afforded me as I tend to the needs of the "girls" in the yard at Arbutus.
I deliver castles for a living, driving for Arbutus RV. Each delivery or pick up is a wee adventure for me. For you – I hope your castle is a wee part of a larger story – one that holds fond moments and what I call 'ever memories' you and all who share your castle are able to cherish.