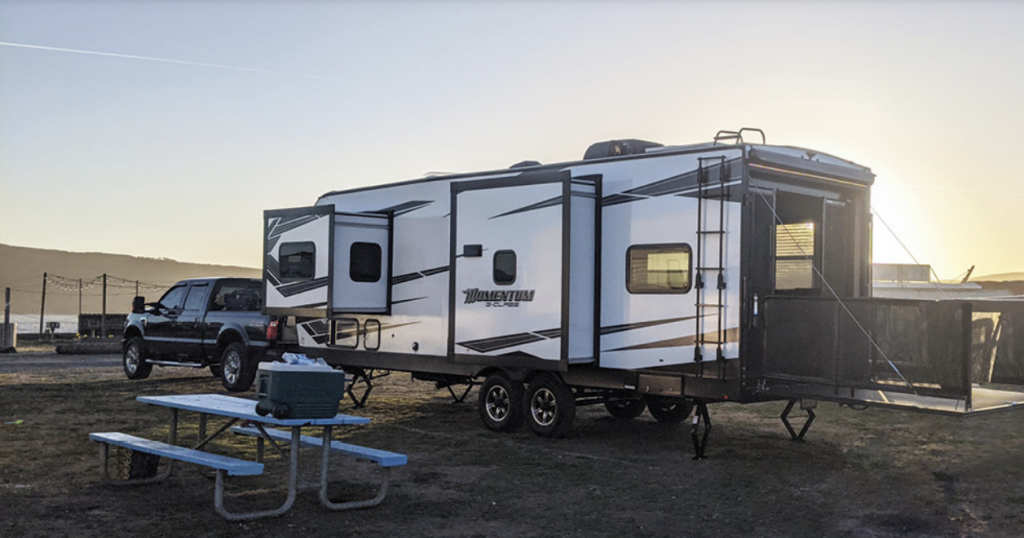 Exploring Vancouver Island far and wide can take you off-road, down a river, and generally off the paved roads. If you like to venture into the wilderness a Toy Hauler can be a great addition to your trip.
Many RVers choose a toy hauler for the added garage-style storage, allowing you to carry your ATVs, Kayaks, Jet Ski's, Motorcyles, and more.
WHAT CAN YOU FIT IN A TOY HAULER?
The size of your toy hauler will affect what you can fit inside the garage-style storage area. The exact storage space depends on your specific toy hauler. In most cases, all toy haulers can fit outdoor equipment such as:
ATVs
Bikes
Kayaks
Paddleboards
Motorcycles
Snowmobiles
Jet Skis
Side-By-Sides
UTVs
It is important to keep weight in mind when choosing your toy hauler, and toys. You want to be sure you can tow comfortably and safely with your toys loaded in the back, and that any ramps are capable of holding your toys.
TOY HAULER GARAGE SIZE
With Toy Haulers ranging in size from 30 – 40 feet, including the living quarters and the garage, the garage size will vary by unit. It is important to always remember. Generally, toy hauler garages are wide, long, and tall enough to handle the most popular toys to help you get out and explore!
CAN YOU PUT A CAR IN A TOY HAULER?
Unfortunately, Toy Haulers are not built to carry your car, and the ramps generally cannot hold the weight of a vehicle.
Click here to check out the latest Toy Haulers in stock at Arbutus RV