Arbutus RV is proud to announce a partnership with Winnebago, one of the most recognizable names in the RV industry. Arbutus RV will be the exclusive Vancouver Island dealer for Winnebago Travel Trailers.
Winnebago offers a wide variety of travel trailers including the Micro Minnie, HIKE, HIKE 100, Minnie FLX, and Minnie Voyage. The past years have seen a historic surge in Vancouver Island families choosing RV travel to explore Vancouver Island and beyond, and this addition to the Arbutus RV offering gives guests an even more choice.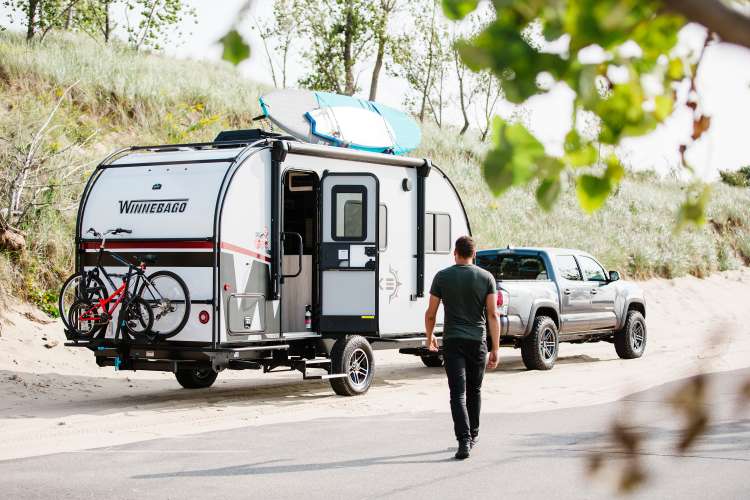 "We are excited to partner with such an iconic brand like Winnebago and have their products available to our guests at all six of our Vancouver Island locations," remarked Sean Hebdon, Corporate General Manager at Arbutus RV.
Winnebago Travel Trailers are currently available to view and purchase at ArbutusRV.ca and the first units are expected to begin arriving over the coming weeks.
ABOUT ARBUTUS RV
Arbutus RV has been Vancouver Islander's trusted choice for RV's since 1988. With BC's Biggest Selection of RVs we can guarantee you that Whatever Your ADVENTURE…we have an RV for it! Discover the Arbutus RV Lifestyle on Vancouver Island and beyond. See the latest product lines and keep up to date on the events happening at each of the cities we are located in, Sidney, Mill Bay, Nanaimo, Parksville, Port Alberni, and Courtenay.
ABOUT WINNEBAGO
Winnebago Industries, Inc. is a leading U.S. manufacturer of outdoor lifestyle products under the Winnebago, Grand Design and Chris-Craft brands, which are used primarily in leisure travel and outdoor recreation activities. The Company builds quality, travel trailers and fifth wheel products. Winnebago Industries has multiple facilities in Iowa, Indiana, Oregon, Minnesota and Florida.
Winnebago Industries was incorporated under the laws of the state of Iowa on February 12, 1958, and adopted its present name on February 28, 1961. The Winnebago brand name has become synonymous for RV and is the most recognizable name in the industry.