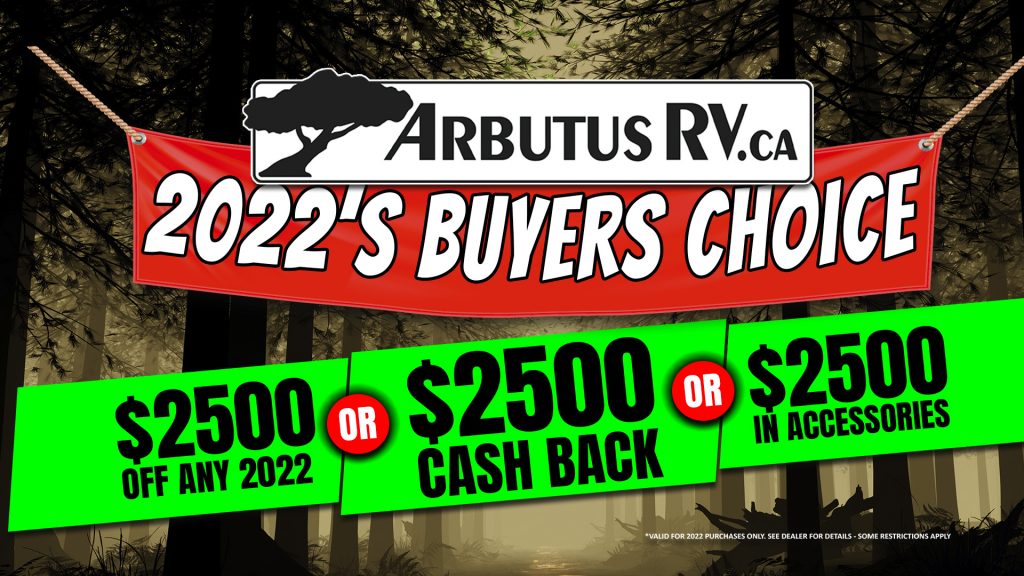 Are you ready to take your RVing experience to the next level? Look no further than Arbutus RV, your trusted companion, for unforgettable adventures on the open road. We are excited to announce our exclusive limited-time offer on new 2022 model year RVs that will ignite your wanderlust and save you big bucks. Get ready to explore new horizons with unbeatable savings and exceptional value!
Unleash Your Adventure: At Arbutus RV, we understand that every journey begins with finding the perfect RV. That's why we're thrilled to offer up to $2500 in savings on new 2022 model-year RVs. Choose from one of three amazing options that best suits your needs:
Get up to $2500 off the purchase price: We want to make your dream RV more attainable than ever. Experience the thrill of owning a new RV while keeping your budget in check.
Enjoy $2500 cash back: Treat yourself to a little extra spending money for your adventures. Use the cash-back offer to enhance your trips with exciting activities, delicious meals, or those must-have accessories.
Receive $2500 worth of accessories: Take your RVing experience to the next level with a selection of top-quality accessories. From camping essentials to innovative gadgets, these accessories will enhance your comfort, convenience, and overall enjoyment.
Why Choose Arbutus RV: When you choose Arbutus RV, you're not just purchasing an RV—you're gaining a partner in your outdoor endeavours. Here's why our customers keep coming back:
Extensive Selection: With our wide range of new 2022 model-year RVs, including top brands like Winnebago Travel Trailers, Alliance 5th Wheels, and Venture RVs, you will find the perfect match for your lifestyle and preferences.
Expert Guidance: Our knowledgeable team is committed to providing exceptional customer service. We'll assist you in navigating the options, answering your questions, and ensuring you make an informed decision.
Quality Assurance: We take pride in offering only top-quality RVs, ensuring that your investment will stand the test of time and deliver countless adventures for years to come.
Act Now: This incredible limited-time offer won't last forever. To take advantage of these unbeatable savings and elevate your RVing experience, visit any of our 6 Vancouver Island locations www.ArbutusRV.ca. Don't miss out on this opportunity to turn your RV dreams into a reality.
The road is calling, and it's time to embark on the adventure of a lifetime. With Arbutus RV's limited-time offer, you can save big and embrace the freedom of RV travel. Discover the beauty of the open road, create lifelong memories, and experience the joy of RVing like never before. Don't miss out—act now and unlock the door to endless adventures!
Ready to explore new horizons? Visit Arbutus RV today, and let the journey begin!