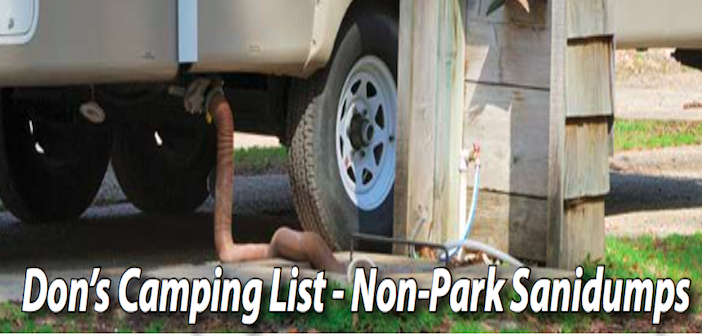 Sani-Dump Listing
Thank you to Mr. Don Middleton who has given us permission to reprint this valuable information from his website. Thank you, too, to all the individual contributors to his list.
One the things that drivers of RV's, Trailers, and Truck Campers are always on the search for are Sanidump Stations. Being "GREEN" is important to most campers, and when the holding tanks are getting full, that pull-out can't be found soon enough. As far as we know, this is the only camper-created web page based solely on first-person reports from real people like you, as well as direct contributions of non-park Sanidump hosts such as PetroCanada.
On the most part, sanidump stations in parks are to be expected, and some of those are open to non-camper use. The challenge is to find accessible (and sometimes free) sanidump stations along the way. Making that last visit before reaching home is high on many folks list.
There are now over 125 confirmed sanidump locations, and that number is growing. That's directly due to so many RV'ers and campers passing the word along about spots they know about. Many smaller towns have Sanidumps, and during our own vacation this year we found some new locations. Our thanks go out to all those who've sent in additional locations (mentioned in the "Courtesy of…" column on the website).
If you find a sani-station that needs to be added to or deleted from the list, please email Don by entering this URL in your web browser: www.user.dccnet.com/middleton/Sanidumps.html including in the subject line "Sani Station". We all thank you!
| | | | | |
| --- | --- | --- | --- | --- |
| City | Address | Comments | Fee or Free | Courtesy of… |
| 100 Mile House, BC | Municipal, located behind Save On Foods, Birch Avenue. | Easy access, pull through | Free | H & S W. |
| Abbottsford, BC | Reststop, 7 miles east of Abbottsford on Hwy #2 at Cole Rd. turnoff and South Parallel Rd. | . | Free | Keith W. |
| Abbottsford, BC | Reststop, Hwy #1 westbound at approx. mile 77. | Easy access, rumored about to be closed for some time, but operating July-2005. | Free | Harvey B. |
| Agassiz , BC | Fairground, 6800 Pioneer Ave., located in Parking Lot | Easy Access, drinking water available | Free | Stan T. |
| Armstrong, BC | Kin RV Park, Follow the signs in town of Armstrong to park. | Pull through access. | $2.00 | Kin RV |
| Ashcroft, BC | Legacy Park, turn off highway at River Inn turnoff (near the bridge) | . | $3.00 | Hazel P. |
| Atnarko River, BC | West of Atnarko River campground, south of Highway 20 | . | $2.00 | Ray L. |
| Burnaby, BC | Husky at Willingdon and Parker, just each of Boundary Road. | . | $2.50 with gas, $5.00 dumping only | Dan |
| Burns Lake, BC | Municipal, Turn South off the highway at 7-11 Or south at the Mall. Turn right as soon as you cross the RR tracks. It is on the left just before the Bulk Fuel stations. | Easy Access, also free camping (about 6 or 8 spots) on the lake at the public beach. Walking distance to the mall. | Free | Roger V. |
| Cache Creek, BC | Municipal, immediately north of intersection of Hwy 1 and 97N. On the east side of the highway behind the Community Hall. | Lots of room to maneuver | Free | Vivian E. |
| Campbell River, BC | 150 Brant Drive at Shell Gas Station. On new highway. | Double sanidump | $2.00 | Ken J., Pat K. |
| Castlegar, BC | BC Tourist Info Centre, 1995 6th Ave. Located behind the building which is one block north of Canadian Tire (across Highway 22, near junction of Highways 3 & 22) | . | Free | Bill B. |
| Chetwynd, BC | Municipal. Turn off Hwy 97 onto Westgate Rd NW to the Little Prairie Heritage Museum, Sanidump is on the opposite side of the street from museum. | . | Free | Chris H. |
| Chilliwack, BC | Heritage Park, Exit 116 Lickman Road from Hwy #1, 1 block south to light, left/east on Lukakuk Way, on the right across from Heritage Park. | Easy access. Sign indicates closed seasonally (winter?). | Free | Grant R., Mark N. |
| Chilliwack, BC | Husky, junction of Vedder Road and Luckakuk Rd. Exit 119 from Hwy #1, 1 block south. | Easy access.
Construction at exit 119, may be confusing until mid-2004. | Free with fuel-up | Harvey B. |
| Chilliwack, BC | PetroCan, junction of Yale Road West and Airport Rd . Exit 119 from Hwy #1, 2 blocks north. | Easy access.
Only usable if your RV has the waste connection on the passenger side, otherwise your vehicle hangs way out into the intersection. | Free | Harvey B. |
| Clearwater, BC | North Thompson Prov Park Day-use, 5km south of Clearwater on Hwy 5 | Easy access. Need $1 or $2 coins only. Potable water available. | $2.00 | Laurel P. |
| Courtenay, BC | Mohawk Courtenay Service, 2350 Cliffe Ave | Good access | Free with fill-up, or $3 | Earl G. |
| Cumberland, BC | Gas n Go, Comox Valley Parkway east of Hwy #19 | Easy Access | Free | . |
| Creston BC | Millenium  Park, 16 Ave S and Dogwood, south of Hwy 3. | . | Free | David M |
| Dawson Creek, BC | Canadian Tire, on Hwy 40 (to Alberta) East end of Town . | Easy Access, Water available | Free | Ken C. |
| Fernie, BC | Snow Valley Motel, 1021 7th Ave. (604) 423-4421 | Access limited if in use by camper. Apr-Nov only. | $3.00 | Nick V. |
| Fort St. John, BC | Municipal, On right hand side entering town from the Taylor side. Turn after the big RV park. Behind the fire station. | Easy access | Free | Roger V. |
| Fort Nelson, BC | Municipal, On The Alaska Highway, North end of Town next to the Museum | Water available | Free | Ken C. |
| Fruitvale, BC | Beaver Esso, 1925 Main St.. (250) 367-9313 | . | Free | Floyd B. |
| Fraser Lake, BC | Municipal, On north side of highway by the arena behind Tourist Info booth. | . | Free | Bill McF. |
| Gibsons, BC | Chevron, behind the station | . | Free | Deana A. |
| Gold River, BC | Info Centre, east side entry to town on highway | Easy Access | Free | . |
| Golden, BC | Golden Municipal CG, adjacent to downtown | . | Free | Harvey B. |
| Grand Forks, BC | One block east of the curling rink & one block south of Hwy. 3. Near the corner of 19th St. and 72nd. Ave | . | Free | Jack M. |
| Gray Creek, BC | Cedar Grove CG | . | $5.00 | Ken F. |
| Hosmer, BC | Snowy Peaks RV, (604) 423-4523 | Open 9-to-9, Repairs & supplies available. | $5.00 | Nick V. |
| Houston, BC | Municipal, turn north on Butler which is on the west side of the bridge. Sanidump is visible at the end of the road. | Potable water. Large parking area. Easy pull-through access for large units. | Free | Hale |
| Kamloops, BC | Municipal, Mission Flats Rd. Located 300 – 500m west of the Overlander Bridge to North Kamloops. Westbound on West Victoria St. proceed under the Overlander bridge taking first right (at lights) onto Mission Flats Road. About 150 meters turn to the right into the turn around at the Sani Dump. | Easy access | Free | Tom W. |
| Kamloops, BC | Municipal, West Trans Canada Hwy, at east side of travel center across from Aberdeen Mall. | Easy access | Free | Herbert K. |
| Kamloops, BC | PetroCan Travel Centre Westbound: exit right at the first exit past the weigh station. Eastbound: exit at the Lac Le Jeune exit on top of the hill, cross over the free way to the station. | . | Free | Gerry R. |
|   | 1885 West Trans Canada Hwy / Versatile Dr | | | |
| Kamloops, BC | West side of Halston Bridge, east of  Eighth Ave lights, on north side. Turn sharp onto Kingston Ave, at end of road. Hard to see dump location is on road surface, but easy access, and lots of non-potable water for washing down. | Easy access, dump port is on roadway surface at end of road in front of water source (non-potable). Closed in winter. | Free | Don M. |
| Kelowna, BC | Canadian Tire, 1655 Leckie Rd, Kelowna, BC V1X6E4 (250) 860-4331 | Nice spot at side of repair bays, very accessible | Free | . |
| Keremeos, BC | Municipal, near center of town near blinking light. Coming from the west turn right 1 block, left 2 blocks From Penticton or Osoyoos go straight at blinking light 1block then left 2 blocks. | . | Donation | Steve O. |
| Kootenay Bay, BC | Pilot Bay Resort, Pilot Bay Rd – 1/4 mile from Kootenay Bay Ferry Landing (east shore) | . | $8.00 | Dena K. |
| Ladysmith, BC | Wash Me on Ludlow, 930 Ludlow Rd. | Easy access. | $5.00, or free with RV wash. | Valorie G. |
| Lake Cowichan, BC | Ice Arena on South Shore Road on the way to Honeymoon Bay. | At rear, by the ball field | Donation | K. & M. C. |
| Langley, BC | Westbound Rest Area, approximately exit 77 on Highway 1, westbound only | Easy pull-off on return to Vancouver or Island. Dump only – no water. | Free | Kevin S. |
| Lillooet, BC | Cayoosh Creek CG, #100 99 Hwy | Easy access | $5.00 | Linda L. |
| Logan Lake, BC | Municipal, off of Hwy 97C between Merritt and Ashcroft in front of the municipal works yard going into town. | Easy Access. | Free, Donation Lions Club donation requested | Frank S. |
| Lone Butte, BC | At Lakes Blvd and Levick Rd off Hwy-24. | On shoulder on East side, so pull in, turn around at cul-de-sac (industrial) and approach facing highway. | $5.00 + | .. |
| Maple Ridge, BC | Mohawk Gas Station, 22882 Dewdney Trunk Road at the Dewdney and Burnett. Drive into east side of lot, use dump, and pull around back and out onto side-street. | Easy access. | $6.00 | Lisa K. |
| McBride, BC | FasGas Station | Basic | ??? | Bill McF. |
| McKenzie, BC | Municipal, at Town Campsite | . | Free | Bill McF. |
| Merritt, BC | Canadian Tire, 2761 Forksdale Avenue. One block off of Hwy 5A. | Easy Access for all rigs, Potable water. | Free | Dennis B. |
| Merritt, BC | Municipal, 1302 Voight Street across from Claybanks Campground. Entering town from turn right at Shell & Chevrolet dealer, then west past Coldwater Hotel and Home Hardware. Sani-dump on the right. | Easy Access, Good water. | Free | Grant R. |
| Merritt, BC | Husky Station, Voight Street on southeast corner east of intersection with Hwy 5, and to the east of Walmart. | Easy Access. Water. | $3.00 | . |
| Midway, BC | Public dump, off Hwy 3 at 76 gas station, 1/2 block on Florence on east side. | Easy access. | ??? | . |
| Mission, BC | Public dump, on Mission Way off London Ave east of The Junction Mall | Easy turnaround at west end of dead end street. | Free | Klaus T. |
| Nakusp, BC | Public Boat Launch, Junction 6 & 23. | . | Free | Griff S. |
| Nanaimo, BC | Husky Station, Longwood and Turner Rd close to Thriftys and Quality Foods, east of 19a | . | Free | Brent B. |
| Nanaimo, BC | Coop Gas Station at 6673 Mary Ellen Drive, just off the Nanaimo Parkway. Going North on the Inland Island Highway, take the first right past Aulds Road (this road accesses Home Depot and Woodgrove Mall – Walmart etc). Travelling South into Nanaimo, take the "downtown" exit (not Duke Point Ferry) and turn right onto Mary Ellen. | Clean and well setup. | Free | Connie S. |
| Nanaimo, BC | Coop Gas Station, 1350 Cranberry, at corner of Hwy 1 and Cranberry, just off Island Hwy | Easy access. | Free | Jim C. |
| New Hazelton, BC | Municipal, at Visitors Info Center | . | Free | . |
| New Westminster, BC | Husky gas station at Brunette Ave and Braid St. | Also sells propane | ??? | Dan |
| Osoyoos, BC | Husky, junction of Hwy #3 and Hwy #97 | . | $6.00 | Laurel P. |
| Osoyoos, BC | Municipal, in industrial area off Hwy-3 west on 115St., near Desert Model Train Museum. | . | Free | Rocky L. |
| Pemberton, BC | AC Petroleum Pioneer Junction Gas Station, 1441 Vine Road, Pemberton, BC | Easy access. Fuel and store. Beside McDonalds.. | Free | Susan S. |
| Pemberton, BC | Near a tourist information site beside the highway | . | Free | Don H. |
| Penticton, BC | Canadian Tire, 960 Railway (Hwy 97), Penticton, BC | Nice spot at side of repair bays, very accessible | Donation | Hendrika VdB |
| Port Alberni, BC | Canadian Tire, corner of Broughton and Hwy 4 (Johnston). | Water off in winter. | Free | Earl G. |
| Port Alberni, BC | Corner of Napier and Quadrant.- in front of the old City of Port Alberni RV Site (Dry Creek park). | .Easy access for big units on civic road allowance extension. | Free | Dennis D-V. |
| Port Alice, BC | Municipal, 100m south of Legion Hall on main road through town | Easy access | Free | . |
| Port Coquitlam, BC | BC Petro, 1976 Prairie Road | . | $10 | Bob N. |
| Port Edward, BC | Municipal, in Port Edward a few Km off highway 16 | Easy access | Free | Pat M. |
| Prince George, BC | Municipal, 18th and Quinn. | Good facilities | $2.00 | Bill McF. |
| Prince George, BC | Husky, Hwy 97N and Chief Lake Rd. This is the northern-most gas station on 97. | Potable Water, Easy access for big units. Large parking area. | Free for Customers, | Mike C. |
| Prince George, BC | Mohawk, Highway 97 across from weigh scales on McQuik side of the building | . | $3.00 | .Sandra |
| Prince George, BC | Southside Shell, Highway 97 and Terminal on south side of Prince George | . | Free | . |
| Prince George, BC | Canadian Tire (Hwy 16 West and Domano Blvd) – at the rear of the building across from the Canadian Tire gas station | . | Free | Mike C. |
| Port Hardy, BC | Adjacent to Port Hardy Harbour Authority, 6600 Hardy Bay Rd. | Very easy access | Free | D.G. and Pt Hardy Visitors Center |
| Port Hardy, BC | Adjacent to Fort Rupert Curling Club, 5485 Beaver harbour Rd. | Very easy access | Free | D.G. and Pt Hardy Visitors Center |
| Princeton, BC | Husky gas station, 1 km south of Princeton on Hwy 3. | Easy to pull through, right behind the station
CLOSED – unclear if permanent or temporary | Free | Larry W., Mark N. |
| Port Renfrew, BC | Highway, east side of highway several miles south of Pt Renfrew. Well signed for easy pull-off. | Very easy access | $2.00 | Dan |
| Prince Rupert, BC | City Campground, Highway 16 (Park Ave.) on the way to the ferry | Difficult access | Free | Pat M. |
| Prince Rupert, BC | FasGas, Highway 16 (Park Ave.) on the way to the ferry | Difficult access | Free | Pat M. |
| Quesnel, BC | Municipal, on main street (highway) at the bridge to West Quesnel | A bit hard to find, but quite good setup. Provides for day-parking of RV's. | Free | . |
| Revelstoke, BC | BC Frontier Restaurant and Gas Station | . | Free with fill-up. | Jim W. |
| Roberts Creek, BC | Provincial Park, west side of highway | | $5.00 | Deana A. |
|   | | | | |
| Salmo, BC | The Salmo Pump (Esso Station), 519 Railway Ave. Highway 6, near junction of Highways 3 & 6. | . | Free with fill-up. | Bill B. |
| Salmon Arm, BC | Piccadily Place Mall, on 10th Avenue S.W., just south of the TransCanada Highway in the west end of town. | Easy access, in parking lot | Free | Steve H. |
| Sayward, BC | Municipal, attached to village campground in center of Sayward, beside municipal office and across from ballpark. | Good access | Free | Dan |
|   | | | | |
| Sechelt, BC | Canadian Tire, 4380 Sunshine Coast Hwy, Hwy 101 & Field Rd | West side of parking lot with easy access. | $10 due to commercial dumping abuse | Deana A. |
| Sicamous, BC | BC Shell Gas | . | Free with fill-up. | Jim W. |
| Smithers, BC | Canadian Tire, Highway 16 | Easy Access | Free | . |
| Smithers, BC | Municipal, at Visitors Info Center, just off of Highway 16 | Easy Access | Free | . |
| Sooke, BC | Provincial, French Beach Park, 23 km west of Sooke. | Easy access off highway supporting 2 units at a time. | $5.00 | Brent B. |
| Squamish, BC | Canadian Tire, located Hwy. 99 & Mamquam Rd. Turn Right from 'off' lane of Hwy. 99,then Left at the light. Find it at the back of the parking lot at the end of the Entrance road. | Easy Access. Reports in Aug-08 that it has been closed in the past few months and had issues with cleanliness. | Free | K. L-R. |
| Squamish, BC | 'Suds R Us', 1113 Industrial Way toward Whistler. Turn West off of Hwy. 99 at the Tim Horton's sign proceed approx. two Blocks, find it on the Left-hand side. | Easy Access | Fee | Merrilee L. |
| Squamish, BC | Provincial, Alice Lake Park Govt. Campground north of Squamish.Turn right off of Hwy 99 follow road in and locater signs. | Easy Access | $5.00 | Merrilee L. |
| Summerland, BC | Municipal Dump, N Lakeshore Dr. in Summerland. Lakeshore Dr. meets Highway 97 at the bottom of the steep hill heading south towards Penticton. Drive North on Lakeshore past the Marina, Gowans Rd. past Solly Rd around the corner there is a park with a dump. You have gone too far if you pass Peach Orchard Rd. | Easy Access, no fresh water. | Free | Ron |
| Tahsis, BC | Municipal, located in parking lot (usually used for boat trailers) on main road through town near resort and post office | Easy Access | Free | . |
| Taylor, BC | Municipal, On the south side the Highway behind the hotel. | Easy access | Free | Roger V. |
| Tatla Lake, BC | Tatla Lake gas station, south of Highway 20, Toll Free 1-800-928-3976 | . | Free | Ray L. |
| Terrace, BC | Tourist Info Center, on Highway 16, across from Superior Program | Easiest Access when eastbound | Free | Pat M. |
| Tumbler Ridge, BC | Flatbed Campground & RV Park, Municipal, Highway 29 South, 2 km before Tumbler Ridge | Easy pull through | Free | Hazel P. |
| Tumbler Ridge, BC | Municipal, off MacKenzie Ave, on Ridge road before the Garbage Dump | Pull through access | Free | Hazel P. |
| Ucluelet, BC | Ucluelet Campground, 260 Seaplane Base Rd. | Easy access | $5.00 | Shelley V. |
| Ucluelet, BC | Island West Resort, 1990 Bay St. | Easy access | $5.00 | Shelley V. |
| Valemont, BC | PetroCanada, Hwy 5 and 5th Avenue | . | ??? | Petro Canada |
| Vanderhoof, BC | Municipal, connected to Riverside Campground 1km north of Hwy 16. | . | Free | Bill McF |
| Vernon, BC | Civic Ice Arena – Off Hwy 97 behind the Civic Ice Arena. Turn east at 39th Ave with access just past the Civic Ice Arena entrance. | No potable water | $5.00 | J&L D. |
| Vernon, BC | Real Canadian Super Store (new) off of 48th Ave., just west of the Village Green Mall on 27th and east of Hwy 97 | Up to 40′ coaches | Free | Howard M. |
| Vernon, BC | Vernon Husky, next to the Canadian Tire Store on 27th Ave | Suitable for RV's up to 26′. | Free | Howard M. |
| Victoria, BC | Fort Victoria RV Park, 340 Island Hwy | Suitable for 2 RV's dumping at same time | $10.00 | Fort Victoria RV Park |
| Whistler, BC | Municipal Recycling Facility, Pass by Whistler Village when heading north. Turn left onto Blackcomb Way and into the municipal recycling facility. | . | Free | Terry S. |
| Whistler, BC | Function Junction, travelling North turn left at 1st traffic lights onto Westside Rd., then 20 yards onward to recycling area. Sanidump is on the right. | Easy Access. When entering the recycling depot the Sani Dump is on the left. Hose for potable water is short. | Free | Kelly L-R. |
| Whistler, BC | Nesters Market, 1 km north of Whistler Village on Hwy 99 | A new dumpster has been placed in the middle of the facility making it very hard to maneuver, as you must turn around it. Best used for smaller RV's. | Free | Kelly L-R. |
| White Swan, BC | Municipal, at Visitors Info Center | . | Free | . |
| Williams Lake, BC | Municipal, at Stampede Grounds, off Highway 20 at MacKenzie Avenue. | Easy Access | Free | Gord L. |